And another one is coming soon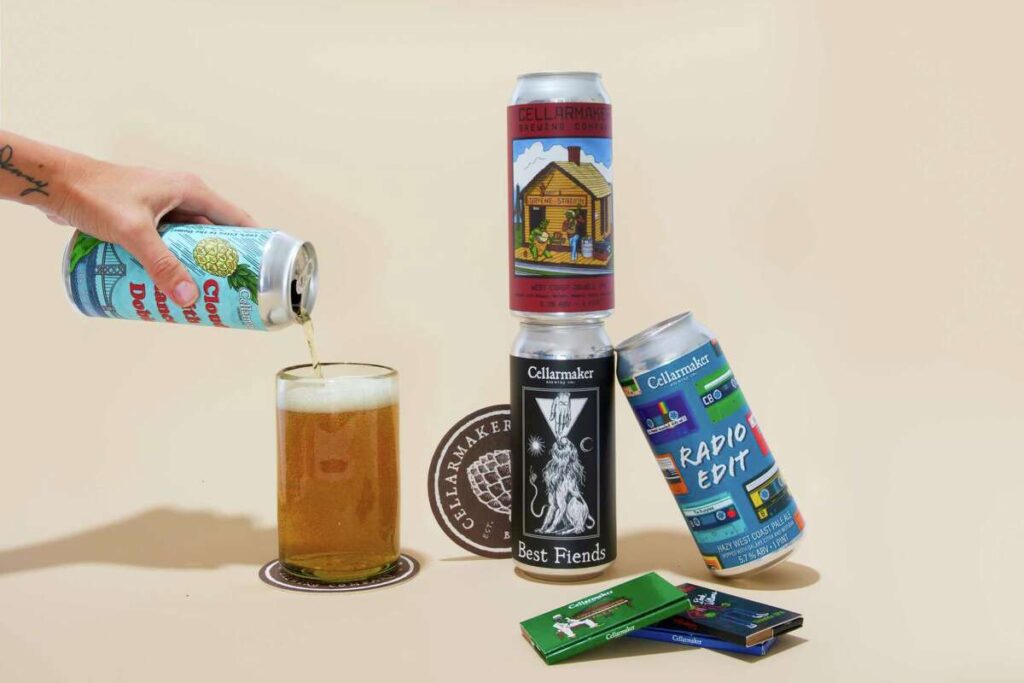 July 26, 2023
San Francisco Chronicle — One of the Bay Area's most popular breweries is quickly expanding into the East Bay, recently opening one location and preparing to open a second in August to quadruple its overall brewing capacity.
Cellarmaker Brewing Co. is now pouring its hoppy West Coast IPAs and crisp lagers at an expansive Berkeley beer garden at 940 Parker St. in the former home of the Rare Barrel, a brewery that had focused on sour beers. Next, Cellarmaker's long-awaited Oakland taproom and brewery is due in late August, where its buzzy brews will accompany more of the Detroit-style pizza that's already popular at the brand's San Francisco taproom, Cellarmaker House of Pizza, in Bernal Heights
Connor Casey, who co-founded Cellarmaker in San Francisco in 2013, said that the label had outgrown its original SoMa brewing facility, where it poured its final pints in December. (That space did not sit vacant for long: a new brewery called Enterprise Brewing Co. opened in early July.)
"In selling beers to bars, we saw people are really going for the beers in the East Bay," Casey said. "We felt demand was strong and we love the energy here." It didn't hurt that Casey and his co-founders also live in the East Bay, he said.
Whereas Cellarmaker's facility in SoMa had a capacity of just 2,000 barrels per year, the Berkeley and incoming Oakland breweries can each produce a yearly 4,000 barrels of beer.
"We're making a decent jump in production," Casey said. "We want to keep things at a moderate growth, but nothing too crazy."
The brewery is also making a leap in terms of space. Cellarmaker's Berkeley beer garden, which opened July 14, has a seating capacity for 200 in an outdoor area decked out with picnic tables, sail shades and string lights that glow after dark. The interior of the Berkeley location fits another 100 customers in a space with bar seating and tall tables with plants. Twelve taps pour Cellarmaker's brews, which are also available in cans and bottles. Capacity will eventually expand to 20 taps. A food menu will be available in about six weeks, featuring small calzones made with the same pizza dough as Cellarmaker's pizzas, fresh salads and finger foods like olives. (The location isn't equipped with a range hood, so fresh pizzas and hot dishes will not be available.)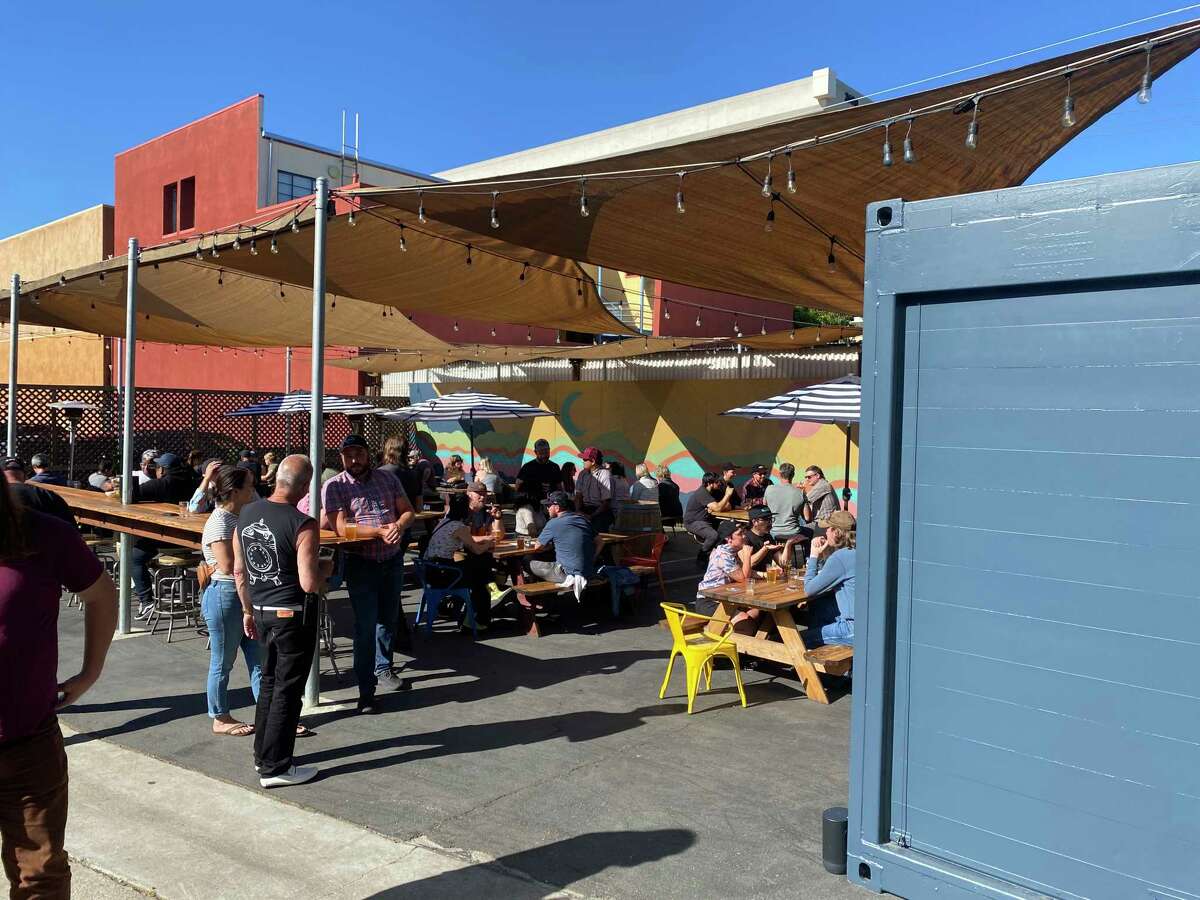 Fans of the Rare Barrel can still find some of its sour beers at the new Berkeley Cellarmaker, like the key lime-pineapple Poptropica barrel-aged beer on tap and in bottles. Cellarmaker acquired the Rare Barrel and will continue to brew beers under its name. Such mergers among small and midsize breweries are becoming common in the current beer landscape as companies figure out how to deal with static growth. These mergers can help keep independent breweries afloat and might be safer than larger corporate buyouts, like Sapporo's purchase of — and recent decision to close — S.F. staple Anchor Brewing.
Just down the road, Cellarmaker's Oakland brewery, at Blue Bottle Coffee's original roasting facility, will soon pour 24 beers, plus wines and ciders. The space, at 300 Webster St., has fewer seats than in Berkeley, with room for 70 inside and an outside area that can accommodate 80.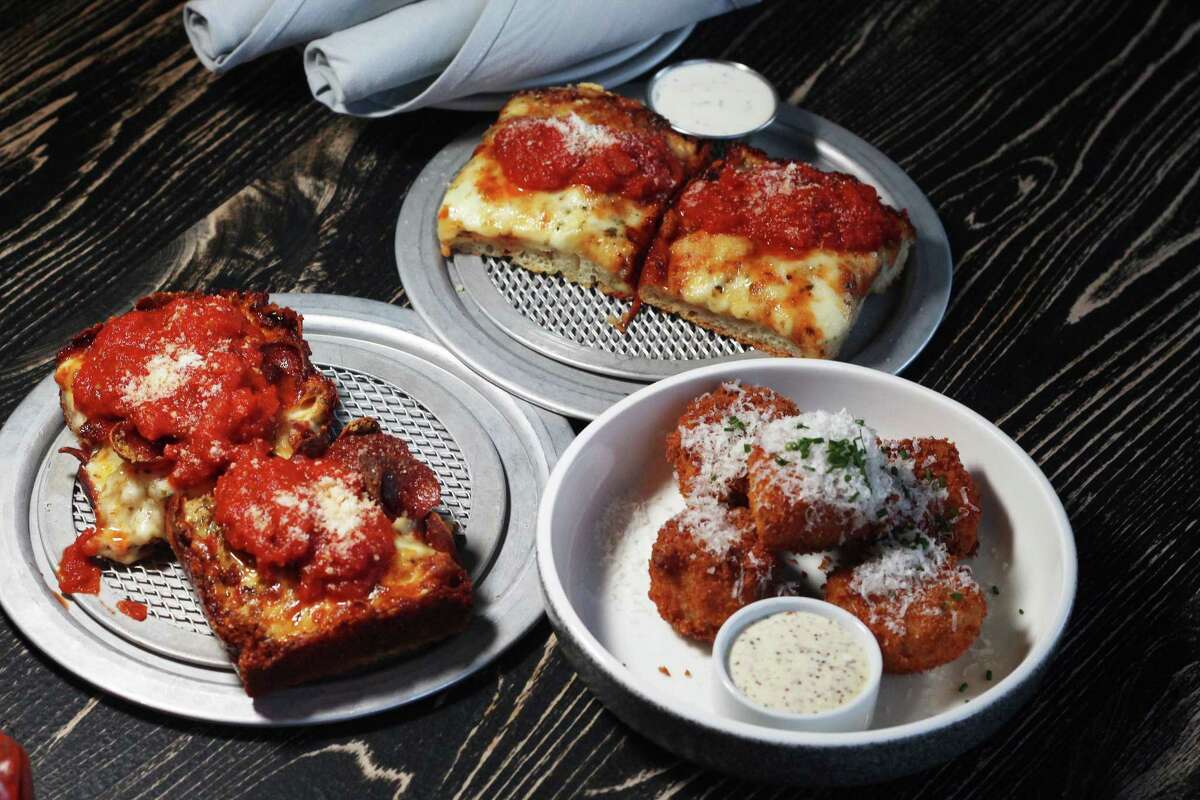 Cellarmaker's Detroit-style pizza will headline the Oakland menu, with crispy, square pies topped with classic pepperoni, and other options like sweet corn with poblanos; and a "divorced-style" cheese pizza with half red sauce and half pesto sauce. There will also be fresh seasonal dishes from chef Megan Ledet, such as a stone fruit salad with arugula and focaccia, adobo-cured spare ribs seared in duck fat, and a sweet corn gazpacho dotted with creme fraiche and calabrian chili oil. There will be a shop area stocked with apparel, beer and to-go pizza in the front of the space.
Things didn't quite go as planned in Cellarmaker's calendar — the Oakland bar and pizzeria was supposed to open before the Berkeley beer garden. But Casey takes things in stride as both locations open in quick succession and to nice outdoor drinking weather
"It's way more fun to do this in the summer," he said.