With its 'beyond-wine' project, Moonland, Jason Edward Charles is showing that alternatives to grapes may have a role to play in an industry facing wildfires, drought and other realities of climate change.
June 13, 2023
BERKELEYSIDE – Of all the perils facing winemakers — drought, pests, mold, floods, frost — none seems to be more pressing these days than wildfires. The Glass Fire, which ripped through California Wine Country in 2020, burned more than 67,000 acres in Napa and Sonoma counties and damaged or destroyed dozens of wineries. But even those whose vineyards survived the blaze had to deal with another devastating byproduct of the fires: smoke taint.
Wine grapes have thin skins, and when heavy smoke settles over a vineyard, the fruit can pick up the flavor of ash. Sometimes a vineyard may fall victim to smoke taint while its neighbor's fruit goes unscathed. And sometimes the unpleasant smokiness doesn't reveal itself until the wine has been bottled and aged.
"It's very hard to explain," said winemaker Jason Edward Charles. "This is relatively new. A lot of people are still studying it."
Some grape growers are meeting extreme weather with extreme measures, ripping out acres of vines and planting new varieties of grapes that they hope will better withstand the effects of climate change. And some in the industry are turning to other fruit — namely pears and apples — to help save wine.
Among those is Charles, who started his Berkeley-based winery, Vinca Minor, in 2013.
Realizing that his 2020 vintage red wine production was in jeopardy (red wine is fermented with the skins, making it more subject to smoke taint), Charles started talking to fellow winemakers to see how they were dealing with the issue. A friend of his was experimenting with pears and apples. Their thicker skins and the way those fruits are washed before fermentation means that smoke taint is not an issue. Charles started experimenting, mixing sauvignon blanc with pear juice and carignan with apples. He liked the results and began serving the wines in his tasting room. His customers loved them and the wines sold well.
"The fires forced us to get creative," says Charles. "We realized there was this whole other world out there that got us excited."
That other world he created is called Moonland, a new "beyond wine" brand launched by Charles in the aftermath of the 2020 wildfires, that focuses on hybrid fermentations—combining grapes with other fruit to make a different style of wine.
The wildfires also helped inspire the Moonland name. It was Sept. 9, 2020, a day that most Bay Area residents remember well. It was the day the skies turned orange.
Charles was working in his winery, thinking of what to call his fledgling hybrid wine brand, when the Nick Cave song "Moonland" came on. "I still remember that moment when that song was playing that day," says Charles. "Everything that happened during the day. It seemed like we were on a different planet. Moonland felt right."
While these hybrid wines aren't necessarily new (Charles notes that winemakers in Vermont, Maine and upstate New York have been producing fruit wine for generations), they seem perfectly suited for California, a state not only dealing with wildfires and other consequences of climate change, but one that also has a long history of cultivating apples and pears. That nod to both history and sustainability appeals to Charles.
Indeed sustainability is something that was impressed upon Charles from a young age. He grew up in Lapeer, Michigan, a small town outside of Flint. His parents didn't drink wine —his dad was an occasional beer drinker — but what his childhood gave him was an appreciation of the natural world. He spent a lot of time in the outdoors and his parents were avid gardeners. He also loved art, specifically photography, and moved to New York to pursue a career in photojournalism. "I always idolized everyone from Magnum Photography," says Charles, referring to the legendary photo cooperative. "This essence of being on the streets and moving fast and shooting." He also loved the minimalist ethos of the photographers. That minimalism would carry over into his winemaking.
"When I got into winemaking, this way of making wine, natural wine, very much felt like what I fell in love with photography. I was shooting photography with a Contax T2 on the street. Very analog, no flashes, just whatever available lights. Making natural wine the way that I do with very little equipment feels the same.
While pursuing photography in New York he took several jobs in the restaurant industry and soon got pulled into the world of wine. New York's proximity to Europe meant that he was always trying new wines from France, Italy, Spain, and he had a chance to meet many European winemakers who came to New York to promote their wines.
"I'm living in New York, I really saw myself as a photographer, as an artist, and slowly really got wrapped up into the world of hospitality and wine and food," he said.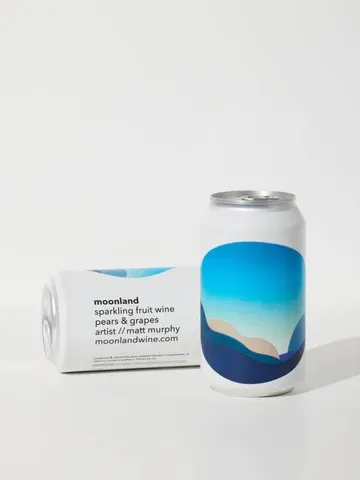 The world of wine also excited him creatively and he wanted to start making his own. He landed a harvest internship in the Napa Valley which led to a full-time position. And then took a job in Bordeaux, France where he worked for a year. As the harvest came to a close, he started dreaming about his own small brand and, with the help of his business-minded wife Emily O'Hara Charles (who is currently Head of Global Brand at eBay), created a business plan and launched Vinca Minor Wine in 2013 with three barrels of wine.
The brand grew and in 2019 they moved to the Berkeley Wine Block, home to seven wineries including Donkey & Goat and Broc Cellars, in industrial West Berkeley.
Being in such close proximity to other wineries has its advantages. As a small winery there's equipment that Charles doesn't have. But chances are his neighbors do.
"Josh over at Hammerling, he has this barrel steamer," he said. "We don't. But we have a grape de-stemmer, so we're pushing equipment around the block, on the sidewalk through the alley, and it's, it's really exciting. So there's definitely this exchange that happens and it's amazing. I couldn't imagine being in any other place making wine."
Moonland has given him the opportunity to get creative, not just with winemaking but with packaging as well. He's experimenting with using cans instead of bottles, a move that plays into the sustainability spirit of the brand.
"Domestically, glass really doesn't get recycled," says Charles. "70% of it just ends up in the landfill. Moving away from glass and going to cans makes a lot more sense."
The packaging also highlights Charles' lifelong love of both art and nature and the creativity he brings into everything he touches. Featuring paintings by California artist Matt Murphy "inspired by the lights out in the desert," the labels evoke that smoky orange day in 2020 that inspired the Moonland name. The art and the colors all fit the mood of Moonland, Charles tells me. "This eerie landscape of what perhaps the future will look like."
The future, of wine at least, seems to be already here.