June 2, 2023
BERKELEYSIDE – Eli Dembele is a living advertisement for her new sewing shop, Studio Sessions. She has sewn everything in it: the curtains, pillows, jacket, tote bag and sundress in the window, the garments on a rack, even the tres chic jumpsuit she wears. The idea is to show prospective students what they, too, can make if they sign up for her classes.
"My goal is to bring community together and create things together," she said. "I want to be more than a sewing shop: a place to learn, to be inspired and meet your neighbors who are also creative people."
Dembele opened Studio Sessions on April 29 in the storefront previously occupied by the clothing store Barge North. The plate glass window curtains were closed for weeks as she and her husband crafted the store's interiors in a clean-lined aesthetic that includes potted plants. Her husband built the unfinished pine tables that hold six sewing machines, a cutting table and shelving.
Dembele, a native of Lyon, ended up in the U.S. five years ago after her husband, an aerospace engineer, got a job here. A former consultant who did search engine optimization for banks, insurance agencies and Fortune 500 companies, Dembele got hooked on sewing after moving here and suddenly finding herself with a lot of time on her hands.
"Sewing is a great creative activity and also empowering," Demble said. "You choose the fabric, you choose the pattern, you're the designer. I think it's exciting."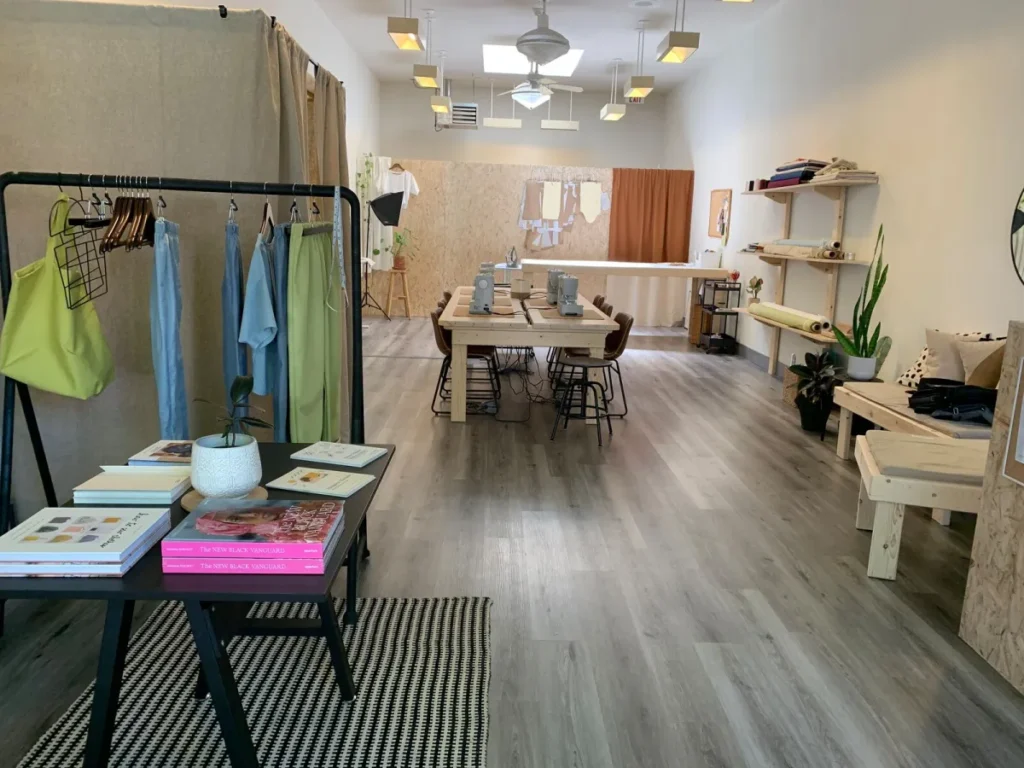 Classes range from a super-beginner level for students who "have never touched a sewing machine before," to classes for more experienced sewers who get to sew a tote bag, shirt, pants, dress, jacket or anything else they like.
Studio Sessions offers a beginner class for adults, two for children as young as 8 and weekend workshops for more involved projects. In the coming weeks, Dembele plans more children's classes during the day and more adult classes in the evening.
Class sizes are small — no more than six adults or four children — so Dembele can work closely with students.
Tuition ranges from $95 for a single two-hour class to $400 for a two-session workshop, each entailing about four to five hours of sewing. The store also offers a curated selection of books, notions and patterns made by Bay Area patternmakers, as well as those from France.
"This is awesome," said Sara Swan of Oakland, stepping into the shop with her daughter, Lucine, 12, who's a sewer. Swan was happy to discover a local sewing shop, which also happens to look good. "What a lovely place."
Studio Sessions, 2924 College Ave. (at Ashby Avenue), Berkeley. Phone: 707-582-5871. Hours: Wednesday-Friday 1-8 p.m.; Saturdays and Sunday, 11 a.m.-5 p.m. Connect via Instagram.