Narain's restitches everything from heirloom quilts to sleeping bags, while Berkeley's REI and Sports Basement offer used gear at lower prices.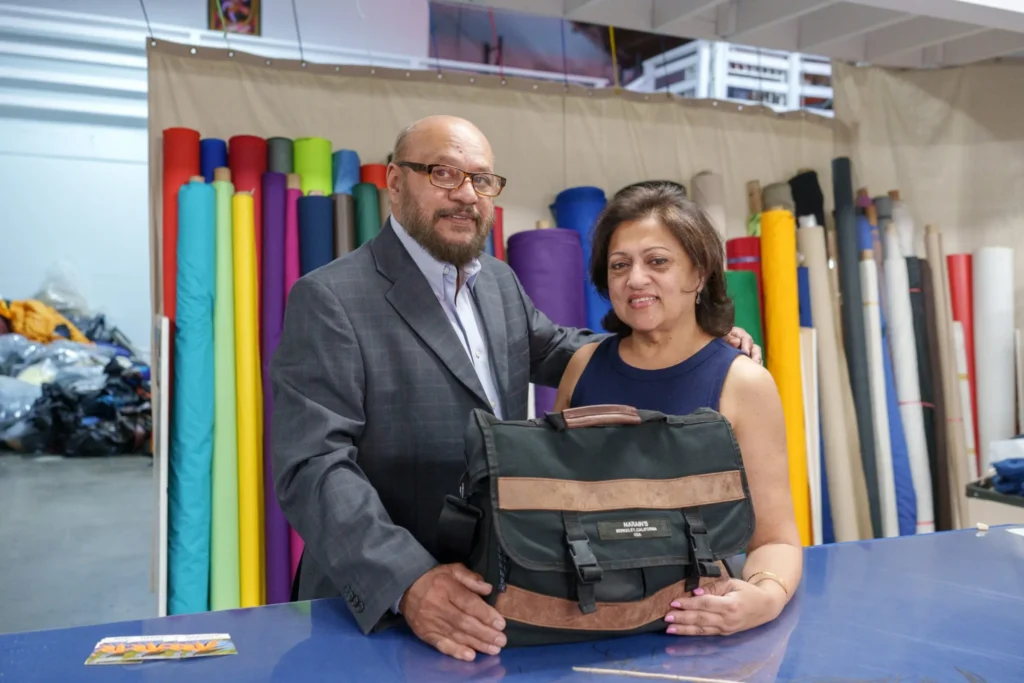 June 28, 2023
BERKELEYSIDE — For more than 40 years, Billy and Reshma Singh have been fixing and reconstituting the East Bay's torn, tattered and too-well-loved everything: tents, backpacks, sleeping bags, jackets, purses, uniforms, hand-me-downs. Their customers have ranged from individuals to recreation stores to police departments, even NASA.
Their small shop, Narain's — located in the alley between REI and Camelia Street in the Gilman District — is a well-kept secret. But it's also part of a growing trend in Berkeley and beyond: Alongside the holy trinity of environmentally conscious living — reduce, reuse, recycle — people and businesses are turning to another precept that has often been neglected in the pervasive shift toward disposables: repair.
The husband-wife team, originally from Fiji, took over Narain's in 1986 from Billy's father, who had opened the shop after serving as the go-to repair guru for the North Face, Mountain Hardwear, Sierra Designs and REI. During the pandemic they moved their shop from a block north on San Pablo Avenue to the current location. And, more recently, their son, Avikash Singh, has also started working with the business.
The family-owned business is committed "to keeping things out of the landfill," Billy said. And not just high-end gear and pricey uniforms. A large portion of their business centers on helping people preserve things they cherish: an heirloom quilt they inherited from a grandmother; the tent from their child's first camping trip; a briefcase their father carried to work.
"Many of our customers get very excited that they don't have to lose something that they got from their parent or have had for a long time," Billy said. "It makes them very happy."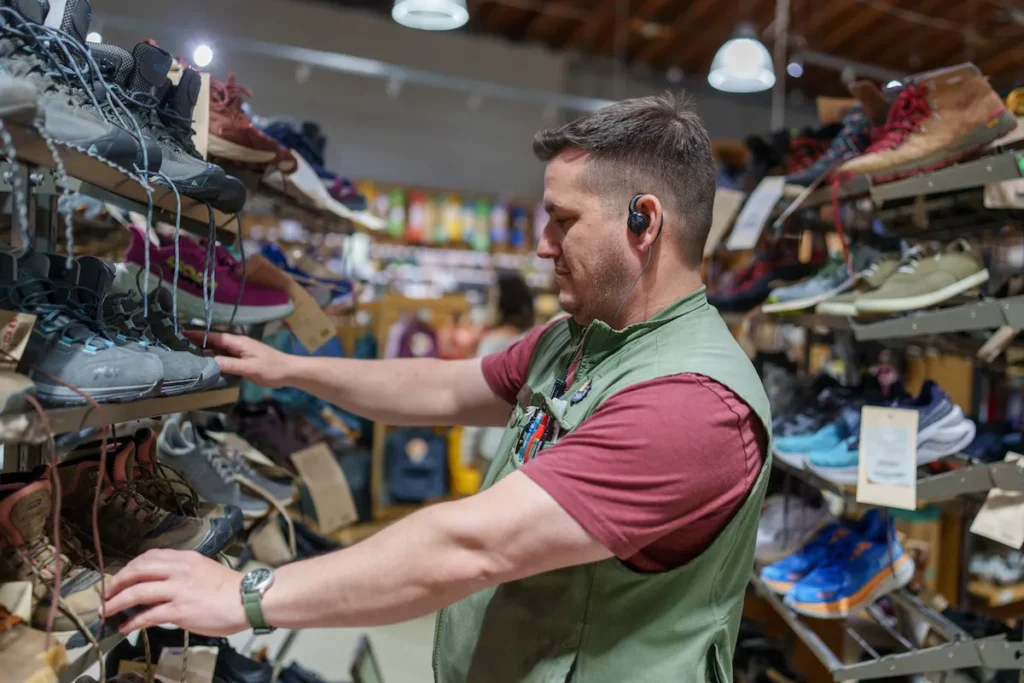 The emotional aspect of not having to give up a treasured item is not lost on Dave Manchester, general manager of REI Co-op Berkeley, which is both a neighbor and partner of Narain's.
"We get people coming back to the store with an REI sleeping bag or backpack that they got years, or even decades ago," Manchester said. He refers them to Narain's. "When they find out that piece of gear can be restored, that there's someone who will take the time and effort to repair it — those moments are amazing."
Environmental stewardship and reducing trash "is part of our DNA as an organization," Manchester said. "We produce so much high-quality gear. The last thing we want to see is having it end up in a landfill."
But things happen to even the highest quality gear: tents get ripped (swiped by a bear?); sleeping bags tear (swiped by a bear?); canteen straps fray (OK, probably not a bear). Even the most rugged equipment is subject to the forces affecting everything on the planet: age.
Beyond partnering with Narain's, the Co-op has taken other measures to make sure good gear stays in use. Three years ago the store expanded its monthly used-equipment "garage sales" (the ones people lined up for) into a permanent section of the store, called Re/Supply.
"It has really worked for us," Manchester said. "And it's not just about being able to keep high quality gear in the cycle," it has also helped attract new customers and families who might not otherwise have shopped at the store, he said.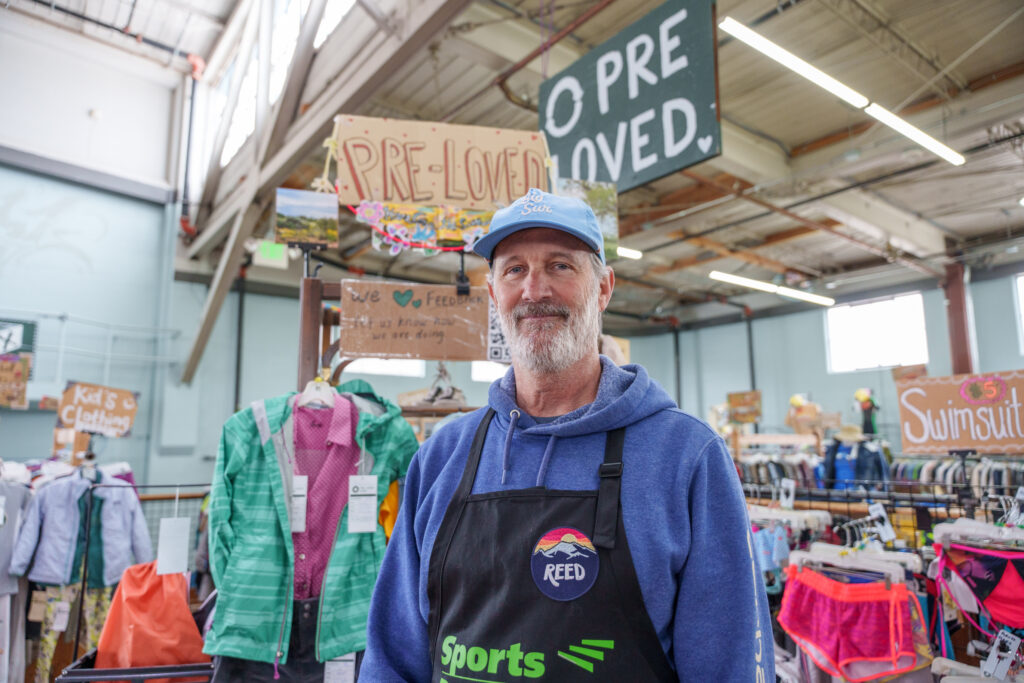 The Berkeley branch of Sports Basement has also found considerable value in having added a "pre-loved" used gear section to its store. What started as a corner sideline has grown into a brisk business, said Tom Purcell, the store's general manager. "In the two years we've had the program, sales have doubled," he said.
"One of the key drivers of our program is to have gear available to the broadest community possible," he said. "There are a lot of different shoppers in Berkeley: treasure hunters, first-timers, people who want to size up for their kids, people who are just trying to keep the bill down. People feel a real sense of relief at having more options."
Purcell said the success of the used gear program also helps pay for Sports Basement's other high-profile community-service programs, including their propane canister refill program. For a single $20 purchase of a canister, Sports Basement gives Basementeer members free refills for life ($2 for non-members), keeping these hard-to-recycle items out of the trash. The combination of good metal outsides and hazardous innards made them a recycling nightmare.
"We have to drain, puncture and crush them. You need a pneumatic press. It's not something people should be doing at home. Refilling bypasses all that and keeps the canisters out of the landfill."
It's the only program of its kind in California and, as far as Purcell knows, the only one in the country. The company also offers a drop-off shoe recycling program. The company also offers recycling programs for shoes, tennis balls, natural cork, and crayons.
Purcell sees all these programs as helping people understand their connection with protecting the natural world. "Wilderness changes people. From there, maybe they become activists or preservationists," he said.
While REI and Sports Basement grow their reuse and recycling programs, customers at Narain's just want the Singhs to keep doing what they've been doing. What they don't want is for Billy to utter the other "r" word. "Everyone keeps telling me, 'Don't retire, don't retire — we need you here.'"
WHAT NEXT