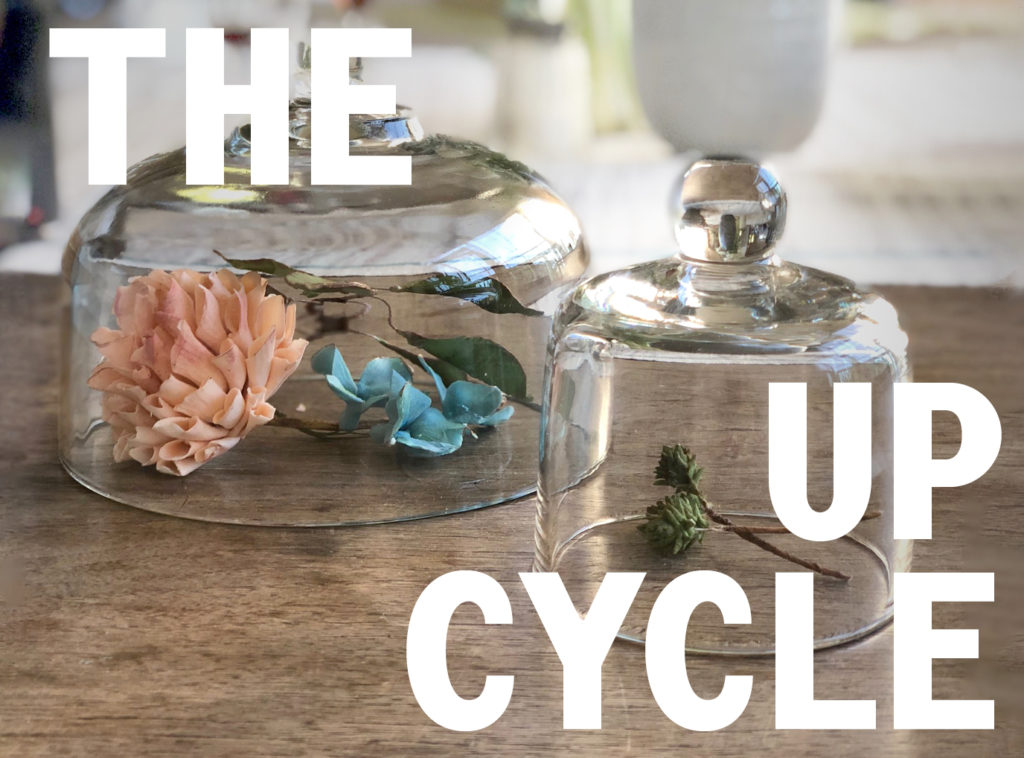 Upcycled items curated by Berkeley-based fashion designer Erica Tanov
---
December 18, 2019
BERKELEYSIDE — Researchers over the years have observed a special phenomenon at the Urban Ore warehouse off Murray Street in West Berkeley. Visitors arrive sharp and goal-focused, but quickly succumb to walking starry-eyed through hundreds of rows of reclaimed artwork, hardware, gizmos and gadgets, dazzled by the enormity of the space and do-it-yourself possibilities hidden in each of its nooks.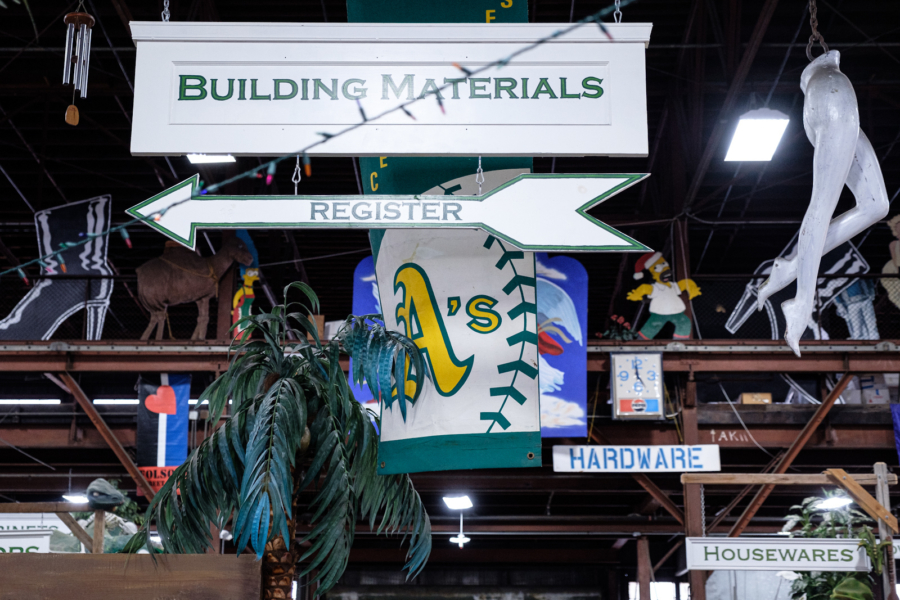 Urban Ore has been on a mission to rescue every-day objects and treasures from landfills since it was first established in 1980. Dan Knapp, who co-owns the business with his wife Mary Lou Van Deventer, describes it as one of the city's largest zero-waste initiatives. It first began with employees scavenging at the landfill to recover salvageable materials and today gets over 800 tons of salvaged materials from the transfer station at Second and Gilman, about 10% of what it actually saves from the landfill from all of its sources.
Urban Ore's employees are the heart and soul of this operation to wrangle repurposed "junk," and the business is currently assessing the feasibility of becoming a worker-owned co-operative with support from the City of Berkeley Office of Economic Development's business assistance partner, Project Equity. About 60% of every earned dollar goes to the 40 employees on the team, and Knapp believes each of them are personally aligned with Urban Ore's mission.
"It's a cool way to approach life, a lot of things are wasted, a lot of things are built better in the old days — I would love to preserve that," said Daniel H., an open-mic comedian and employee who lived in Long Beach before moving to Berkeley to join the business.
An overall dip in the worldwide recycling market has affected Urban Ore, however, like many recyclers across the country. It's currently hoping to gain more financial support through a salvaging service fee from the city's Zero Waste Division, instead of being seen as "competition," said Knapp, who described recycling as an inherently political landscape.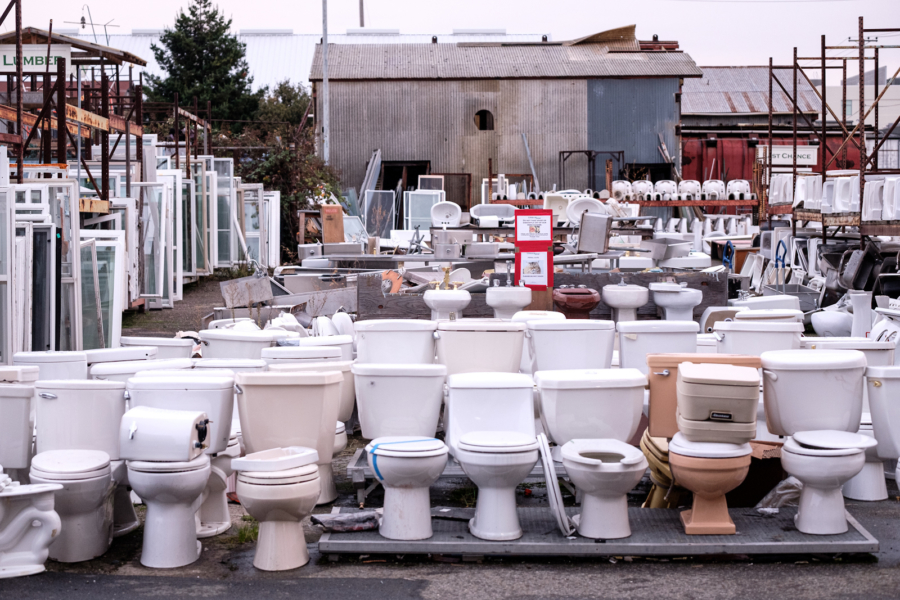 Within this ecosystem of recyclables and trash, Urban Ore is also home to countless beautiful objects, and a wealth of variety — including roughly 6,000 different doors, says Knapp, who in a previous role was known as "the door guy." Contractors, builders and makers regularly stop by to purchase vintage woodwork, furniture, and materials that are hard to find at discounted prices, in addition to objects, like lighting, toilets and sinks that have become "boutique" goods in recent years. Estate cleanouts are one unique source of items at Urban Ore, and the possible origin of the most expensive item ever sold at the warehouse — the founding documents for the first chapter of the NAACP established west of the Mississippi, which eventually garnered $10,000. Most items are marked well below that figure, and curators from local thrift shops and vintage clothing boutiques frequently stop by at the warehouse to build their own inventory. A boom in thrift shopping among millennials has also contributed to a diverse and funky blend of customers: young people and students sort through antiques alongside longtime patrons.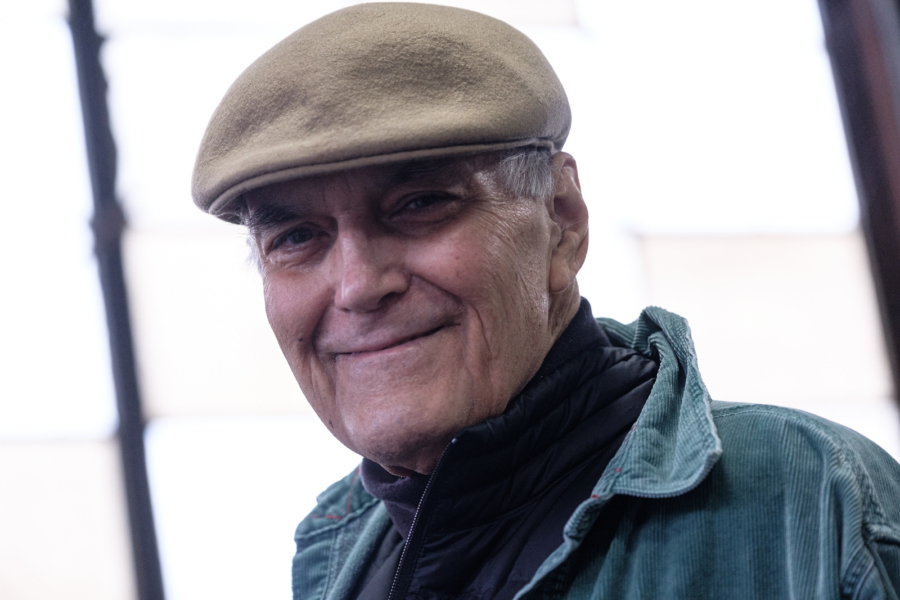 Though Knapp doesn't work in the store daily anymore, he loves interacting with visitors and always has a quick note or bit of trivia ready for customers' purchases. Urban Ore is a real life fantasy escape, a mixture between the Room of Requirement in Harry Potter and Ariel's underwater trove of "whosits" and "whatsits" in The Little Mermaid. Knapp and Van Deventer are busy passing on their mental inventory of wisdom to the employees as they take on the challenge of navigating the warehouse's mysteries. After the process is complete, the two are poised to continue work on The Recycling Archives — an intensive process to build a rich oral history of recycling and its global impact.
"I expect that once they own it, they will make it even better than it is now," Knapp said of their employees. "I think I've always been really interested in finding people that can do my jobs better than me, and when I find somebody like that, then I give up the job I'm doing and find something else to do."
This story was paid for by the City of Berkeley's Office of Economic Development which helps new and established Berkeley businesses build strong connections to the community, navigate local policies, find affordable financing and real estate, and become more sustainable. OED staff help entrepreneurs, artists and community organizations feel welcome in Berkeley.
What Next
Shop locally and/or "regift" this holiday season. See Berkeley's certified green businesses to support companies that care about our planet.
Contact OED if you're considering succession planning or conversion to a worker-owned cooperative.
Visit Discovered in Berkeley to find more stories about innovative local businesses.