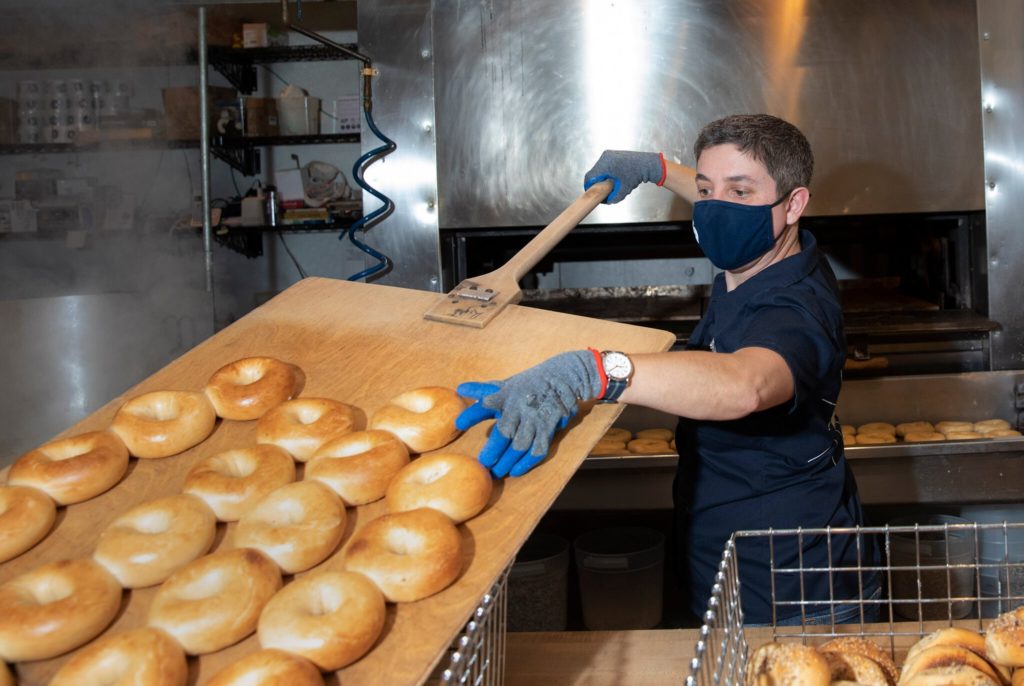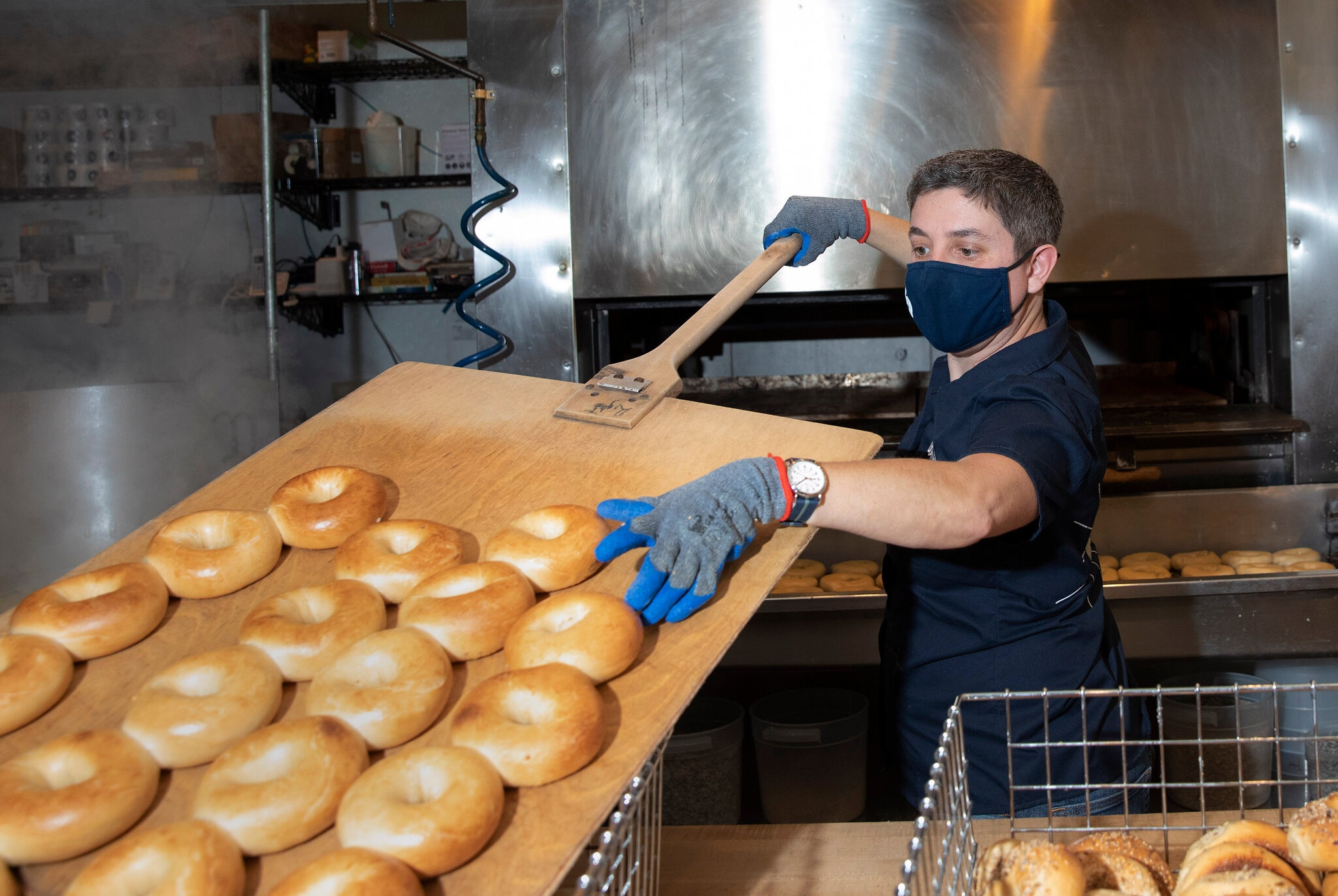 March 8, 2021
NEW YORK TIMES — The bagels at Boichik Bagels have the look of Labrador puppies curled up for afternoon naps: soft and pudgy, golden roly-polys (practically made for that old puppy-or-bagel meme).
The bread has a comforting squish — thick but yielding, chewy but not densely so, with a shiny, sweet-and-salty crust and a rich, malty breath that fills up the bag before you even get home.
This is where the writer (me), a former resident of New York City (Brooklyn), smugly tells you that these bagels are good for California bagels, excellent by West Coast standards.
But no, to be clear: Emily Winston's bagels are some of the finest New York-style bagels I've ever tasted. They just happen to be made in Berkeley.
And it's not an anomaly. Ms. Winston, 43, is part of a West Coast bagel boom, one of many bakers tinkering and excelling with regional styles.
The wood-fired bagels at Daily Driver, and the impressive blocks of butter, have their own fan base. So do the dark, wonderfully chewy bagels at Gjusta, the puffy beauties at Bueller's Bagels, the hefty sandwiches from Yeastie Boys and the more understated ones from Maury's.
When Zachary Liporace moved to Los Angeles from New York, he tried every bagel in town. In 2017, when he was working as a caterer, he started a pop-up called Pop's Bagels, named for his grandfather.
"New York-style is an influence, for sure," he said, but he still hesitates to use the phrase on his menu. In part, it's that the term connotes so many different things to different people, often setting them up for disappointment.
Compared with a New York bagel, "our bagel's not as dense and chewy," said Mr. Liporace, 34. "And the exterior is different, because we use deck ovens."
That exterior is light and wonderfully crackly, with a definitive crunch, and once it's cool enough to touch, it's best slathered with the store's homemade cream cheese, tangy with buttermilk. (For anyone who likes a different kind of finish, he sells the raw, shaped frozen dough to bake at home.)
Like many bakers, Mr. Liporace has expanded his business during the pandemic. He opened a location in Culver City in January, and is planning a second in Brentwood.
Arielle Skye, 29, started selling small batches of delicious, aggressively crusty bagels on her bicycle, and later found an audience with a wonky cardboard sign every Saturday at the farmers' market in the Silver Lake neighborhood of Los Angeles.
The bagels looked like Montreal-style bagels, and I happily waited for open-faced sandwiches, thickly spread with cream cheese and stacked with sliced, ripe tomatoes, even as Ms. Skye's fan base grew, and the lines got longer, and slower.
Last October, she and her partner, Chris Moss, opened Courage Bagels in the Virgil Village neighborhood, in the space where Elvia Perez had previously run a bakery called Super Pan.
Ms. Perez served the area's Guatemalan, Mexican and Salvadoran communities for 20 years, until the landlord evicted her in 2018. She moved her business to South Central Los Angeles, where Ms. Skye and Mr. Moss drive every Friday so they can stock her pan dulce in the case at Courage Bagels — a bittersweet relic of the block's identity, before a gentrifying pattern of rising rents, evictions and shifting tastes.
Buy Ms. Perez's pan dulce if you see it, along with Ms. Skye's smoky poppy-seed bagel, with all its layers of crispness and crunch. And go for the burned everything if you love to lick your fingers and pick up the crispiest, most browned bits of onion and garlic that inevitably shake off a bagel in motion.
Bagels are personal, and everyone holds to her own vision of the ideal.
The bread certainly isn't new to California. Nick Beitcher, 37, grew up on the bagels from Bagel Nosh Deli and New York Bagels in Los Angeles — his father always came home from the gym with a big brown paper bag full of hot bagels, and his family still eats them at their Yom Kippur break-fast.
But the bagels he makes now at his San Francisco business Midnite Bagel almost defy categorization, more influenced by his time as the head baker at Tartine, working in the school of Chad Robertson.
Mr. Beitcher's bagels have a high hydration, and they're naturally fermented with a young, liquid-y sourdough starter, left to develop flavor for about 24 hours.
Mr. Beitcher started Midnite Bagel as a pop-up inside Tartine, but during the pandemic, he left and turned to bagels full-time. Most days, he's up and boiling dough by 3 a.m., hopping into his cargo van to make deliveries to homes and coffee shops. He also runs a busy bagel stand at the Ferry Plaza Farmers Market.
He thinks of the bagel, he said, the way he thinks of any good bread: "You should taste the grain being used in the dough. And there should be contrasts — textural contrasts, flavor contrasts."
Ms. Winston, of Boichik, grew up in central New Jersey, eating the H & H sesame bagels that her father brought back from Manhattan. She started baking in 2012, not long after the H & H Bagels location on 46th Street closed.
"I was so upset I would never have that bagel again," Ms. Winston said. Though other locations still operate uptown, to many fans, they're not the same.
In her memory, the H & H bagel was the ideal New York-style bagel. It had a distinct sweetness and a malty perfume. And though some bagel lovers found it too sweet, for Ms. Winston, that sweetness was just right. It defined the bread.
"I mean, it's not a muffin, it's not a cupcake, it's a sweet-neutral, which works really well with cream cheese and lox," she said.
As she developed her recipe, Ms. Winston took baking classes, and visited bagel stores, particularly in New York. To evaluate each bread, she'd rip it apart and lick the glossy exterior. She was looking for a particular density, maltiness, chew, crust and smell — "I think smell is a really big one," she said.
Jewish immigrants from Eastern Europe, who introduced the bagel to Lower Manhattan in the early 1900s, defined the general parameters of a New York-style bagel.
The dough relied on a long, cold fermentation — usually overnight. Changes in the temperature and humidity, as well as the hydration of the dough itself, were all factors in how the flavor and texture developed. The raw rings, traditionally rolled by hand, were boiled briefly, then baked on burlap-wrapped boards.