Modern Sailing, Ironworks and Stay True Cycles are just a few of Berkeley's recreation businesses serving all ages and abilities.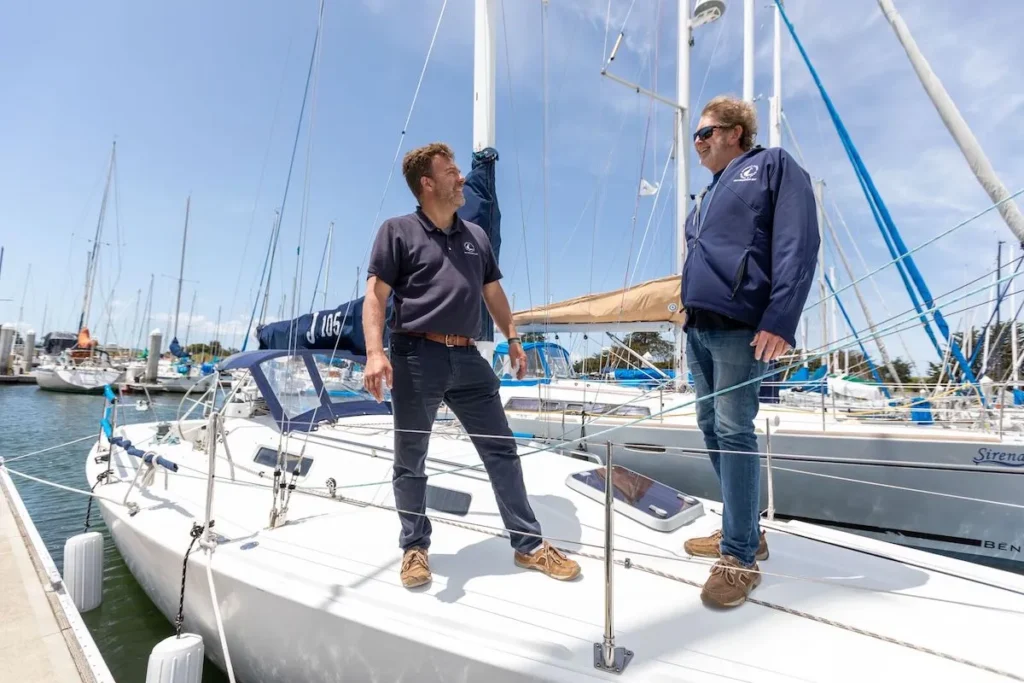 May 25, 2023
BERKELEYSIDE — Berkeley has plenty of (now) marquee-name recreation businesses that either got their start or took their inspiration from the city's heady, healthy, eco-vibe: Clif Bar, PowerBar, Sierra Designs, Mountain Hardwear, The North Face.
But there are also many independent businesses at the avant-garde, pioneering new services and broadening the notion of who might sail, pedal or climb — and how and where.
Leigh Hunt, for example, thinks the world-class sailing conditions in Berkeley need to be heralded and enjoyed. Hunt is the owner and operator of Berkeley Marina's year-old Modern Sailing School and Club, a business that has operated out of Sausalito since 1983. In 2021, Hunt and a group of Berkeley sailing die-hards started Inspire Sailing, and the two companies merged this year. The full-service venture offers lessons, certification, skipper-led sailing outings and high-performance racing sailboats. ("Think Porsche, not the family sedan," Hunt said.)
What makes sailing in Berkeley world class? The immediate access to international sailing's most coveted aerodynamic sweet spot: the Slot.
"It's a confluence of elements that make it one of the most interesting, challenging sailing sites in the world," Hunt said. "Think of a wind funnel stretching from the Golden Gate Bridge all the way back to Berkeley — that's the Slot. Learn to sail on the Slot and you can pretty much go on to sail anywhere in the world."
Unfortunately, too few Berkeleyans know about this treasure in their front yard. Or that the Berkeley Waterfront, once a dispiriting trek through rutted roads and freeway-bound traffic, has received significant city investment over the past three years resulting in a major overhaul.
Hunt knows that, from dry land, sailing can seem like an exclusive, esoteric club populated by smartly dressed captains and salty dogs. "Sailing can be intimidating," Hunt acknowledged. "It has its own language and its own environment. But a school like ours can take you from beginner to skilled. From there it can become a hobby, even a love. You can sail around Berkeley for a single day or you can go on to circumnavigate the globe."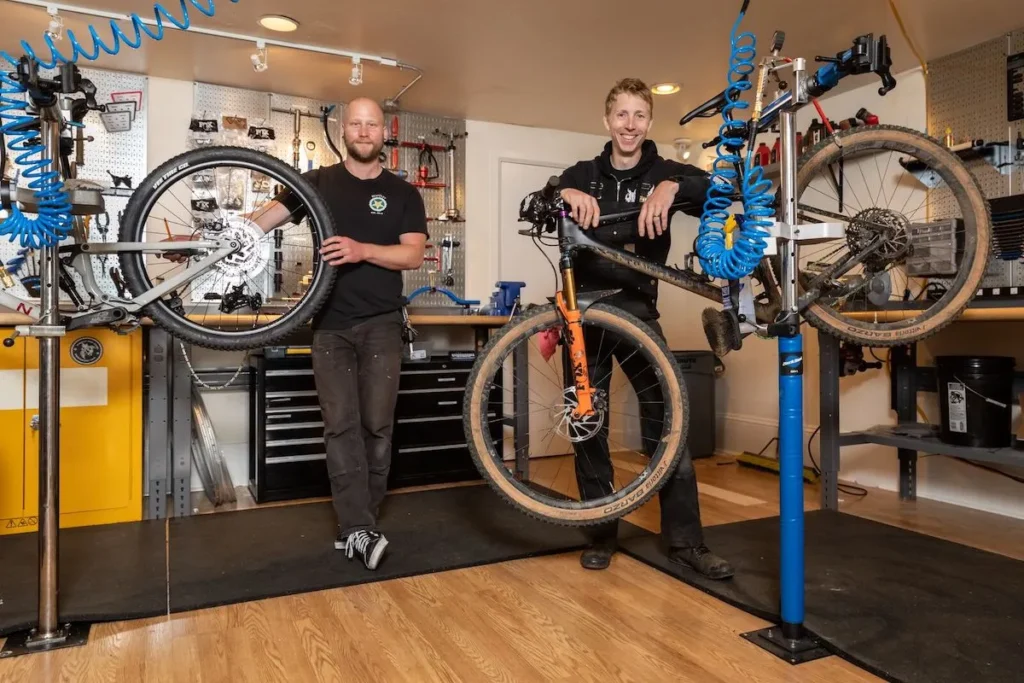 Unlike Hunt, Nick Hoeper-Tomich, cofounder of Stay True Cycles with his partner Jonah Thomas, doesn't have to reassure people that the words "cycling" and "Berkeley" cohere. Berkeley's cycling community is large and eclectic. And every day hundreds roll by their original shop on Ninth Street, a city-designated bicycle boulevard. (The shop has just moved to 2116 Vine St. near Walnut in North Berkeley.)
"It was a pretty cool thing to look out your shop window and see: we've got older people, kids being pulled in trailers, dogs in baskets, crazy cargo bikes…," Hoeper-Tomich said.
The bike shop is the first of its kind in the North Shattuck neighborhood, though certainly not the city's only; Berkeley already has a solid mix of bike stores, including independently-owned Lulu's Cyclery in Downtown Berkeley and Blue Heron Bikes on Gilman Street, as well as regional chains like Mike's Bikes on University Avenue and Rad Power Bikes on San Pablo, which specializes in e-bikes.
Yet even with all the existing bike options and bike love, Hoeper-Tomich and Thomas see gaping holes in who rides and who doesn't. In their view, the passing parade isn't nearly as old, female, racially mixed, size-diverse or differently abled enough for them.
"As an industry, bicycling has been very much overrepresented as a highly competitive, upper-middle class, mostly white, mostly male sport," Hoeper-Tomich said. "And that's unfortunate, because riding a bicycle is one of the most equitable, inexpensive, powered-by-whatever-you-ate-for breakfast ways to get around."
Their mission is to shift the dynamic around cycling from pricey racehorse to budget-friendly workhorse. "We are trying to combat the trope of the elitist bike shop that's way too cool," he said. "Our goal is to make the experience accessible and judgment-free for anyone coming into our shop. Come as you are and you will be welcomed."
To advance their dream of a bike for every tush, Stay True offers an array of free community programs and rides to get people in the spirit. These include organized road and trail rides, women-only rides and coaching local youth cycling teams. They also sponsor summer internships that give local high schoolers the diagnostic and mechanical skills to jump-start a career in the industry.
But for Hoeper-Tomich, who grew up as a bike-riding Berkeley kid, the best thing about cycling in Berkeley is Berkeley itself.
"The city has been in the forefront of creating bike boulevards and bike lanes. And in 30 to 40 minutes, you can be out in nature, or in the redwoods, or enjoying hundreds of square miles of green space."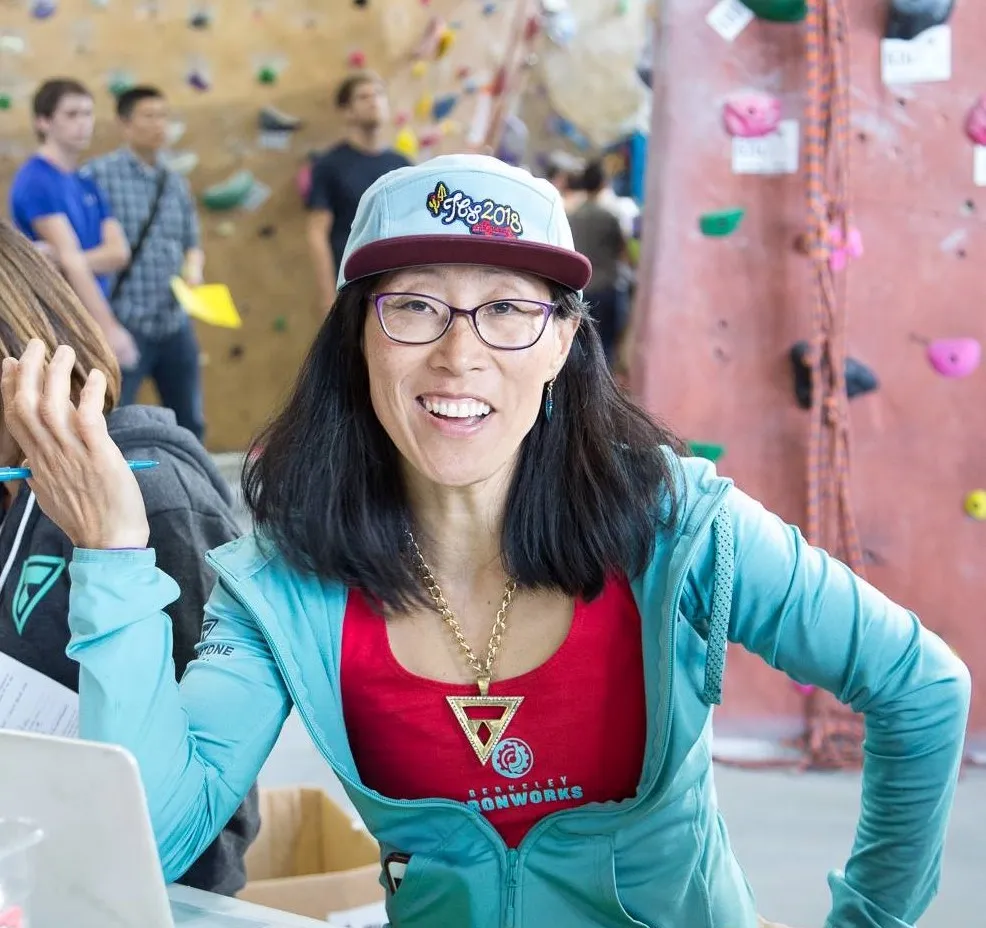 If there is one Berkeley recreational niche that has seriously moved the needle on who's participating, it's climbing. Cases in point: in the past year, two new climbing gyms have debuted in Berkeley: Mosaic Boulders on Telegraph Avenue and Benchmark Climbing in the North Shattuck neighborhood.
This wasn't always the case. Climbing in Berkeley started on the walls of Indian Rock and Cragmont in the first half of the 20th century. For the next 75 years or so, climbing remained a niche activity that, by the mid-to-late '90s, was primarily the province of a small band of fanatical, mostly male climbers, many of whom lived out of their vans, decades before the hashtag #vanlife entered the mainstream.
That was pretty much the scene until 2000, when Berkeley Ironworks, a full-service climbing gym in West Berkeley, opened its doors. Part of a statewide climbing network run by Berkeley-headquartered Touchstone Climbing, Ironworks was the first indoor gym in the country to bring climbing, yoga, strength training and fitness classes under one roof.
Lyn Barraza, the general manager of Berkeley Ironworks, was among the first group of hardcore climbers to join the gym and, in the spirit of the original dirtbag climbers, lived out of her van for a brief time in the Ironworks parking lot. And while those bygone days do have a kind of nostalgic halo to them, Barraza prefers the new look of climbers.
"Today you'll see a much more diverse set of climbers in the gym at any given time. Climbing is no longer the exclusive province of any one race or gender. It's really nice to see," Barraza said.
"There used to be a division between the indoor and outdoor climber, and there is still debate amongst some of the crustier members of the community about what constitutes a climber," she said. "But I believe that if you climb indoors and love the movement, you're a climber.
"When you climb at Ironworks, you are part of the great mosaic of human climbing history, one that has deep roots in Berkeley."
WHAT NEXT