Berkeley caterers talk about the motivations, the changes and the challenges in becoming a certified green business.
April 21, 2023
BERKELEYSIDE — As anyone who has ever hosted an above-and-beyond dinner party knows, the shift from gorgeous to galling comes swiftly. Gone are the photo-worthy dishes and the beautifully laid table. In their place are empty wine bottles, wilted leftovers, and piles of dirty dishes. 
For "green" caterers, who avoid single-use items, multiply that scenario by a guest list that can stretch into the hundreds, then repeat it four or five times a week.
"That's the thing about being green, you're constantly dealing with the aftermath," said Hugh Groman, owner of 22-year-old Hugh Groman Catering. "You start to see that very little needs to ever go to a landfill. You take a 360-degree view of everything — food, utensils, packaging, platters — and figure out how each thing can be reclaimed."
The imperative of valuing every little thing goes to the core of who Groman is. "Environmentalism isn't new, at least not for me. I also happen to be Jewish and I have a deep, deep resistance to waste. I never, ever want to throw away food."
His catering business sends their frying oil to be converted to biodiesel for vehicles, uses compostable single-use items instead of plastic, incorporates reusable foodware when possible, and donates extra food to local food reclamation organizations, like the Berkeley Food Network (also a certified Green Business).
For Dov Sims, owner of both California Rose Catering and the West Berkeley outdoor cafe Cali Alley, eco-consciousness came with every spoonful of his mom's wholesome, organic, righteous cooking.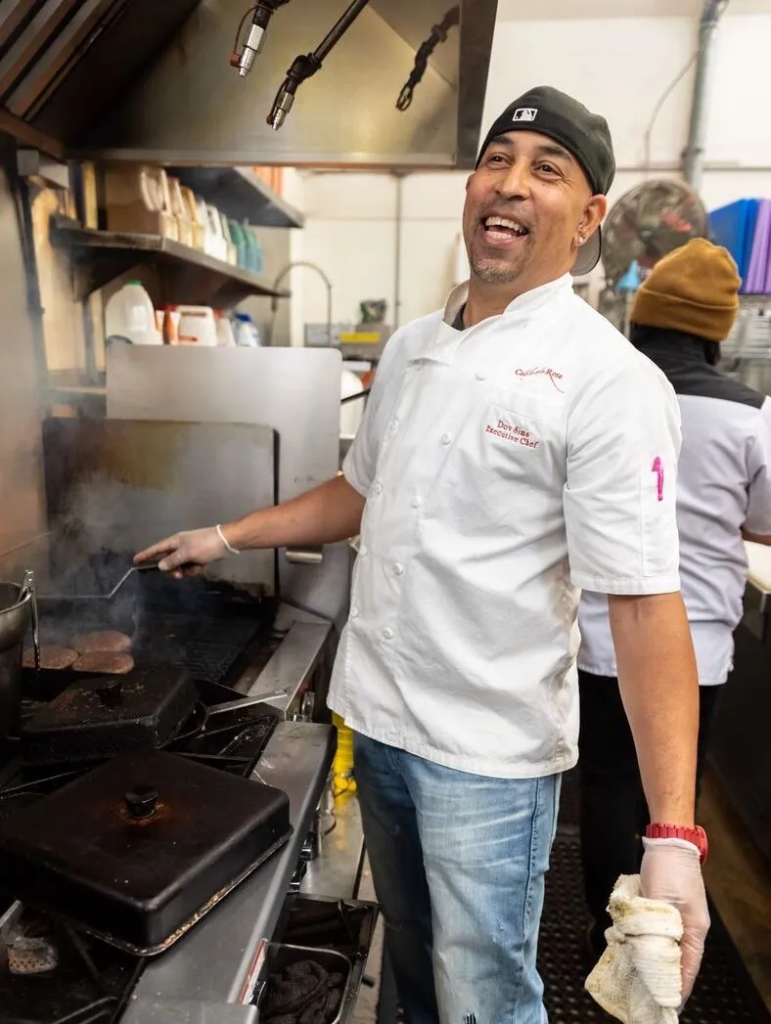 "I was always the one with the homemade lunches packed in reusable containers. I never had the plastic-wrapped cheeses and hot dogs. And any time someone tried to give me Styrofoam, my mom would launch into a soliloquy on the evils of Styrofoam.
"What can I say? he continued. "I'm the product of a Berkeley mom."
He now gives that same soliloquy when training young new staff. "The most important thing I'm doing right now is passing on the importance of valuing the resources we have and of using everything wisely."
Like his mom, Sims uses organic produce. He shops with local suppliers such as Berkeley Bowl.
For Nicole and Peter Callis, the husband-wife team behind The Table Catering, issues of food justice, insecurity and sustainability were just archetypal Berkeley. "I'm local," said Nicole. "I went to Berkeley public schools. You grow up with Michael Pollan and the Slow Food movement. You're just in this environment where people are paying attention."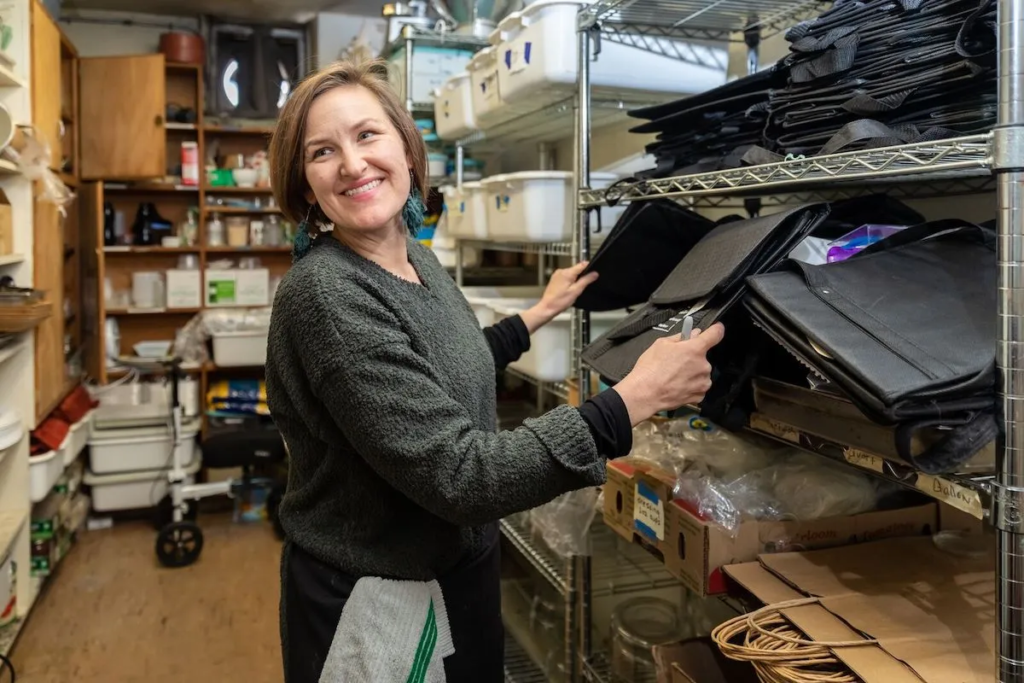 Making it official
But all three businesses wanted more green credibility than their behind-the-scenes activities like sourcing their food from local farmers or composting leftovers. They all sought certification through the Alameda County Green Business program, which is managed by the California Green Business Network. The program is supported by the City of Berkeley Office of Economic Development and offers free assistance to local businesses to help them reduce greenhouse gas emissions, improve energy efficiency, conserve water and divert solid waste from the landfill.
When Alameda County offered the opportunity to get certified more than 15 years ago, Groman knew he hated waste and saw green business certification as a way to "differentiate ourselves."
Sims certified West Berkeley's California Rose Catering in 2012 and is now working on certification for 3-year-old Cali Alley. The Callises (operating out of Berkeley's First Presbyterian Church in the Telegraph District) have applied for certification and are awaiting word. "We're hoping to hear by Earth Day," Peter Callis said, "which would, of course, be perfect."
The process is a serious reckoning for a business, but a worthy and instructive one. "It's hugely meaningful," Groman said. "We go through a full checklist of the operation — water, electricity, lighting. And the checklist keeps getting more comprehensive over time, so we can always improve. In fact, we're getting recertified right now for that very reason."
Each business also has found novel ways to tease out every last eco-trick from their repertoire. Groman, for his part, has instructed his chefs not to trim high-end cuts of meat. "It's customary for chefs to trim off the ends of fine cuts of meat for uniformity and appearance. I tell my chefs to put it all out there. If it's a choice between waste and appearance, I'll sacrifice appearance."
Following a similar philosophy, The Table Catering is a "full-animal butchery" using all the parts of the local cows, pigs and chickens it buys. They do it because buying parts-only uses multiple animals, which are often transported far and require more plastic packaging. "We're always in the process of minimizing the distances that our products travel."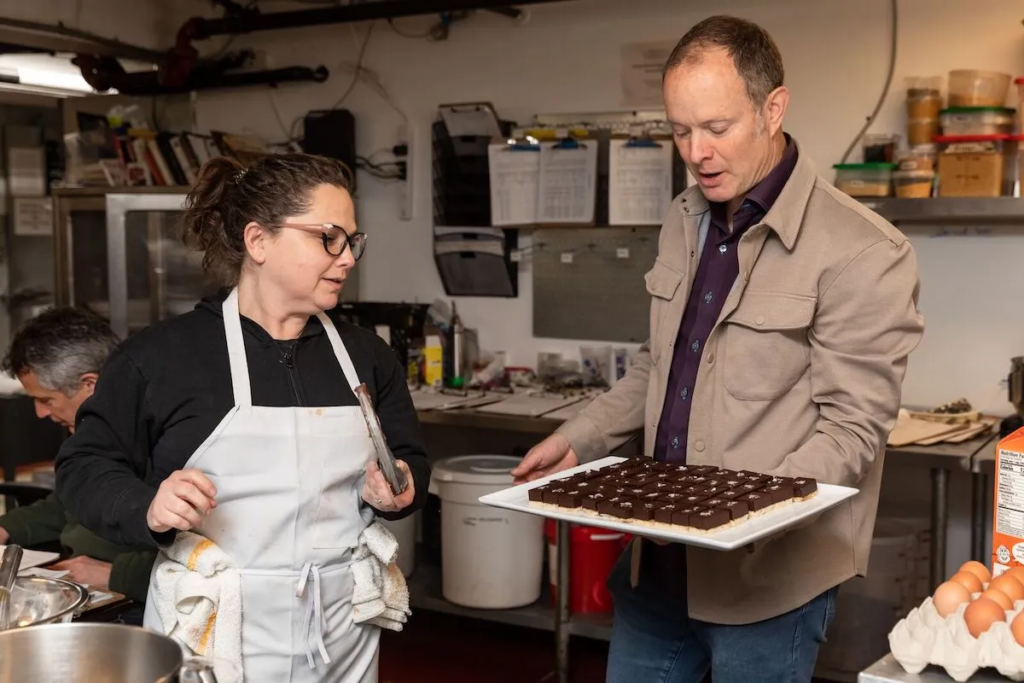 But even the most conscientious green business can't escape one of the last remaining bugaboos: plastic. Groman has yet to find a suitable alternative to plastic film while transporting food.
Sims, whose mom's other soliloquy was about plastic, can't believe "now I'm here, decades later, still talking about plastic." It's not that he's not trying; he said they serve sandwiches in paper boxes and use compostable utensils. They also deliver catering on real platters that can be reused or in reusable, high-end plastic containers.
Peter Callis agrees. "If you're thinking about the last chapter of green business, it's about plastic," he said.
As a potential solution, both businesses are exploring a pilot program with Berkeley startup FoodWare that makes it easy to replace single-use packaging with reusable containers and cups. It provides an app that quantifies the environmental impact for businesses and their customers. The company also works with restaurants, colleges and corporate campuses across the Bay Area, helping them save money while becoming more sustainable.
Which brings us to the cost. There is a hearts-and-minds challenge, not necessarily in Berkeley, but in the wider world: cultivating a greater understanding of the reality that green businesses cost more to operate, although for the right reasons.
"I think the last step, for us, would be for people to fully appreciate what it means to be a green business," Sims said. "It's absolutely more expensive and time-consuming to do things this way, but the value is there. We just need more people to see it. Or at least the people who didn't have a Berkeley mom."
WHAT NEXT