These Berkeley businesses enable moms to build community with each other and also shape community for their children.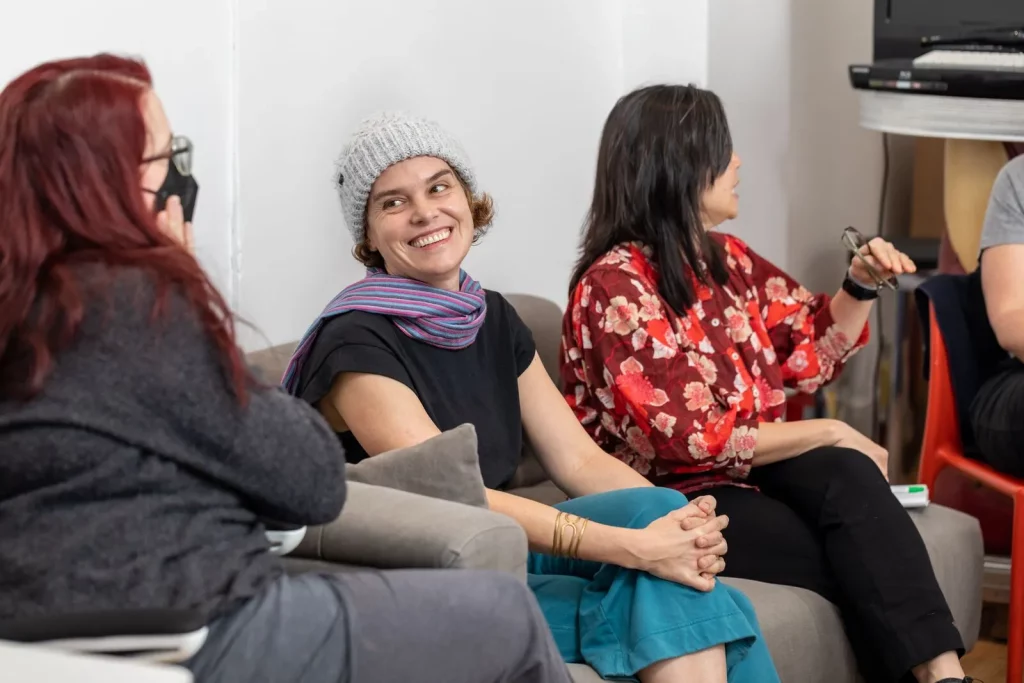 March 8, 2023
BERKELEYSIDE — On the appointed calendar days — like International Women's Day today or Mother's Day, for example — it is customary to trot out the paeans and pedestals. But those won't get a mother through the day. For that, what a mother needs, to adapt the Virginia Woolf quote, is to "have a room of her own."
"It's a practical truth, when you have kids, it really does kind of boil down to space. And I mean that in both the physical and allegorical sense," said Megan Bates. "This is true whether you're handling a big career from an office or working from home."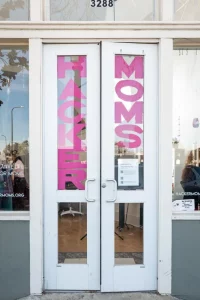 Bates is a longtime member of Mothership HackerMoms, an 11-year-old "creative life lab for moms" in the Lorin District that aims to provide that space — and more — for its members. "We're collectively trying to hack all the roles of motherhood," Bates said. "We're fulfilling a range of needs that have been unfulfilled."
Those needs include serving as an incubator for entrepreneurial and artistic endeavors, providing a quiet and well equipped co-working space, and serving as a support group. In addition to hosting well-subscribed "Failure Clubs," which encourage members to defy their fear of 'failure' and follow through on their goals, they also offer gardening days, sketching and book clubs, knowledge-sharing sessions, group field trips to museums, and other social outings.
Vonnie Chan, a member who volunteers as a business manager/events organizer, said, "Failure Club and HackerMoms in general is a place where moms are free to show up as they are, without judgment. To have a space where you can simply be is powerfully liberating and encourages so many of our members to continue to pursue their endeavors."
Other times a hack can mean just retreating to the space to flop down and zone out. "I can't tell you how many times I've come in and someone is conked out on the couch," said Bates. Which, also, is perfect. "Our ethos, since the beginning, has been to design programming that bends to what a mom needs or wants. And oftentimes what mom needs is a nap."
Other times, mothers are looking for camaraderie. The idea of having an instant, supportive, nonjudgmental, open-minded community strikes a chord with people. Jen Toal, an artist and member who facilitates free weekly online art workshops through HackerMoms, said that it serves as "a crucial resource for creative moms and femme-identified caregivers who don't find enough support in a societal structure none of us evolved to thrive in. We come together in our dedication to thriving anyway."
Like the Swedish co-housing model of bofællesskab, HackerMoms' DIY formula of mother-powered community-building has drawn national and international attention. "We get a lot of inquiries from all over the world — Spain, Thailand, graduate students in urban planning — about replicating what we do."
On March 12, 11:30 a.m.-2:30 p.m., members of the public can see for themselves at Mothership HackerMoms' spring art show and open house (3288 Adeline St, Berkeley). This event will feature an exhibition of artwork and writings by HackerMoms members. (Plus snacks for parents and kids!)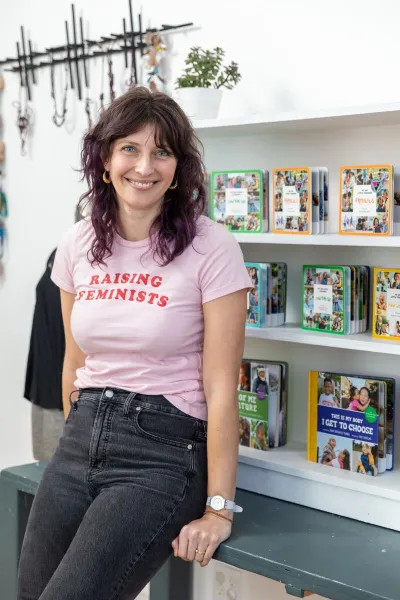 Bringing diversity to children's books
Among the many entrepreneurial endeavors that HackerMoms has supported is Little Feminist. Run by Brittany Murlas, Little Feminist is a subscription book club and publishing house dedicated to inclusive children's books. Their collection showcases books whose characters embody all of the world's faiths, races, hair types, ceremonies, sexual and gender preferences, food traditions and so forth.
"It goes back to when I was working at BabyList.com, which is a baby registry. I was looking at baby products day in and day out," Murlas said. "Meanwhile my husband uses a wheelchair, and nowhere did I see anything that reflected my family. The diversity was pretty abysmal.
"I just felt very strongly that every kid should have a bookshelf that reflects their lives and their families. And I felt like I had to do it, and I had to do it right then."
Never mind that Murlas had yet to have children of her own. Or that she had no experience in publishing. "I just felt so strongly that the world needs it."
So in 2016 she quit her job, raided her retirement savings, and set up shop. Her first iteration was a book club with diverse picture books for 3- to 7-year-olds, all reviewed by a national assembly of librarians, teachers and parents.
"I was shipping everything out of my living room and taking care of other business at HackerMoms," she recalled. "It wasn't until 2020 that I got a warehouse." Despite the financial strain, years of logistical challenges and startup mayhem, "I don't regret any of it," she said.
Nor should she. The business has now expanded into books for older children, board books, even onesies and totes. Today Little Feminist has three employees, seven consultants and eight titles as part of its own publishing house. It is also the first and only publisher to win an American Library Association medal for a board book — the 2021 Stonewall Book Award for We Are Little Feminists: Families.
On March 11, Little Feminist will hold its annual in-person book sale, 11a.m.-2 p.m. in the Mothership HackerMoms space.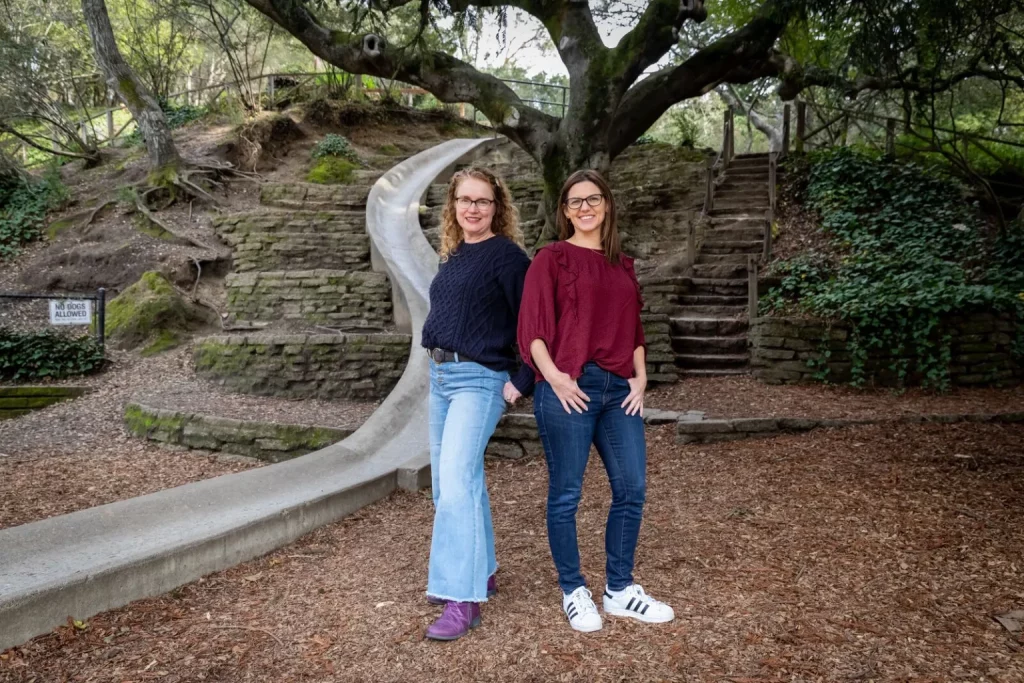 Helping families find fun
During Murlas' BabyList days, she had the chance to work with two other Berkeley mothers with an entrepreneurial spirit, Heather Flett and Whitney Moss, the cofounders of 510 Families. The website has become the region's most-consulted site for kid-friendly activities in Berkeley, Oakland, and Alameda.
510Familes.com focuses on activities that are "local and actionable but go beyond the usual mom-and-baby class," said Flett. At inception, the concept was, "I have this baby, and it's 10 a.m. on a Tuesday, and what is there to do?"
"It was designed with a mind toward getting more out of our local community, to remind people that you don't have to go through the Caldecott tunnel to do things with your baby," Flett said.
"The site has really given us the opportunity to reflect different voices and neighborhoods and seasons," she said. " And we always try to include free or low-cost things: nature hikes, visiting the ladybugs, library story hours, discounted museum passes for EBT and SNAP families.
"We even have stories on where to take your teenager — or your reluctant teenager," Flett said.
After 13 years, they are starting to notice more queries coming in from grandparents. And while their emphasis will always be on new parents and parents new to the area, they are happy to widen the lane to include the villages it takes to raise children.
"We will always respond to community requests," Flett said. "Our whole objective is to make 510 Families more inclusive, for every race and every neighborhood, and every family. This is a wonderful place to live and raise kids. Our goal is to remind people of that every day that they are here."
WHAT NEXT