"At this point, I am an artist because I don't have a choice."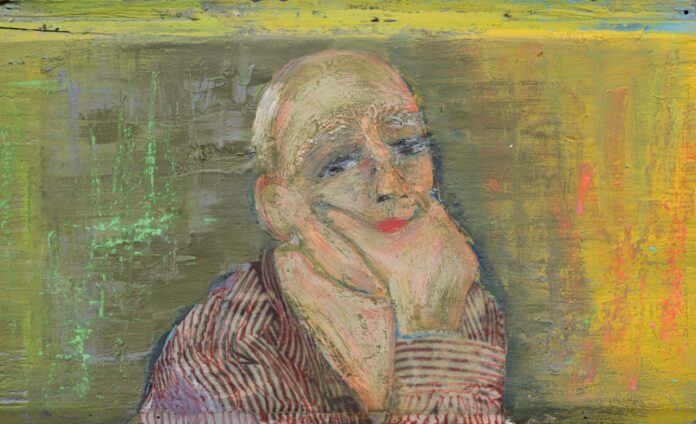 December 6, 2021
48HILLS – The dreamy works of artist Dobee Snowber focus on water and breath, structure and entropy, home and transitions. She makes work that illustrates the moment before, and the one right after, and the one in between the two of those. Proof of such ethereal documentation can currently be found at SHOH Gallery's "Small Pleasures" exhibition (showing through December 24) and "Water Stories," an online show with Santa Fe gallery Jen Tough's Artist Alliance. 
Snowber's childhood was characterized by movement. Snowber's civil engineer father moved his family many times, making a complete circle from her birthplace of Boston to Baltimore, New Jersey, Kansas City, New Jersey again, and then back to Boston. She attended college in New York state, completing a BA in intellectual history and feminist studies. It wasn't until later that she considered art school.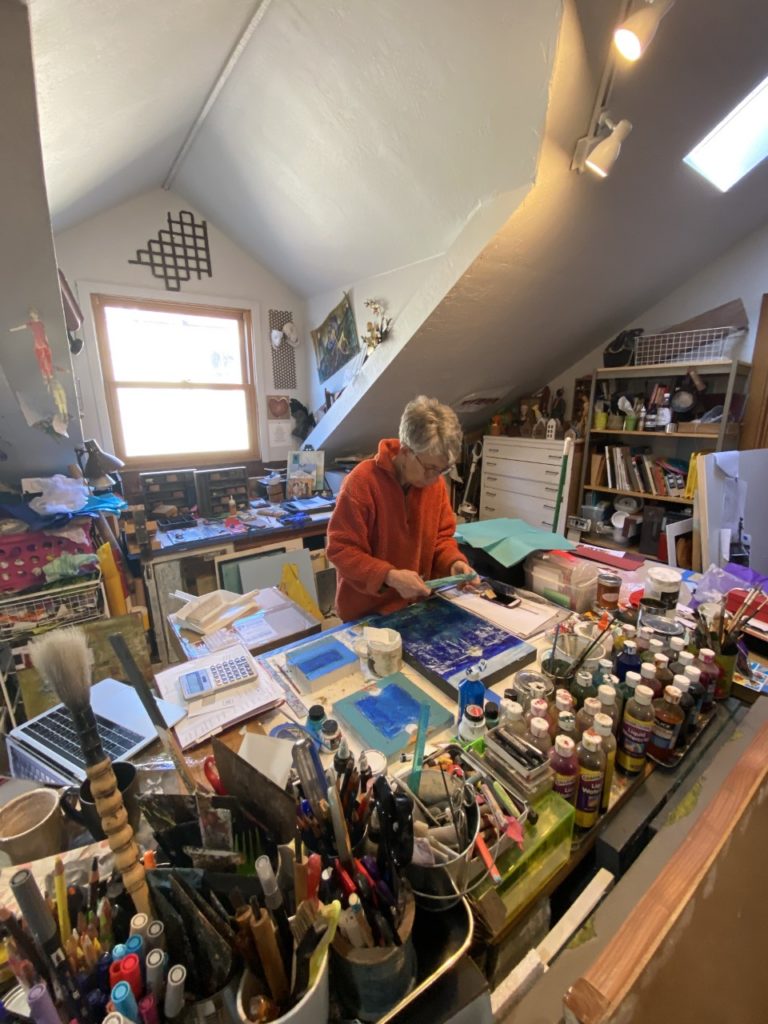 A young Snowber felt discouraged by public school art teachers who mounted strict restrictions on in-class artistry, so she mostly kept her sparse creative work to herself. Such disappointments prevented her from identifying as an artist—until after college, when she moved briefly to DC. There, a friend encouraged her to take an etching class.
"I loved it and applied for a printmaking residency at Penland Art Center in North Carolina," she told 48hills. "From there, I decided to go to art school."
Her plan was to attend the Maine College of Art in Portland for one year, learn what she needed to learn, and carry on. Four years later, she had completed a BFA in printmaking and painting. After graduating, Snowber became artist-in-residence at the Vermont Studio School. She then moved to Santa Fe, New Mexico, to Charleston, South Carolina, and back to Santa Fe, realizing the South was not for her. Sounds a bit like her itinerant childhood, doesn't it? She landed in the Bay Area in 1998, where she has lived ever since. 35 years after completing her BFA, Snowber continues to create. Her path constitutes quite a journey for someone who never considered herself an artist.
"At this point, I am an artist because I don't feel I have a choice," she said. "In a good way."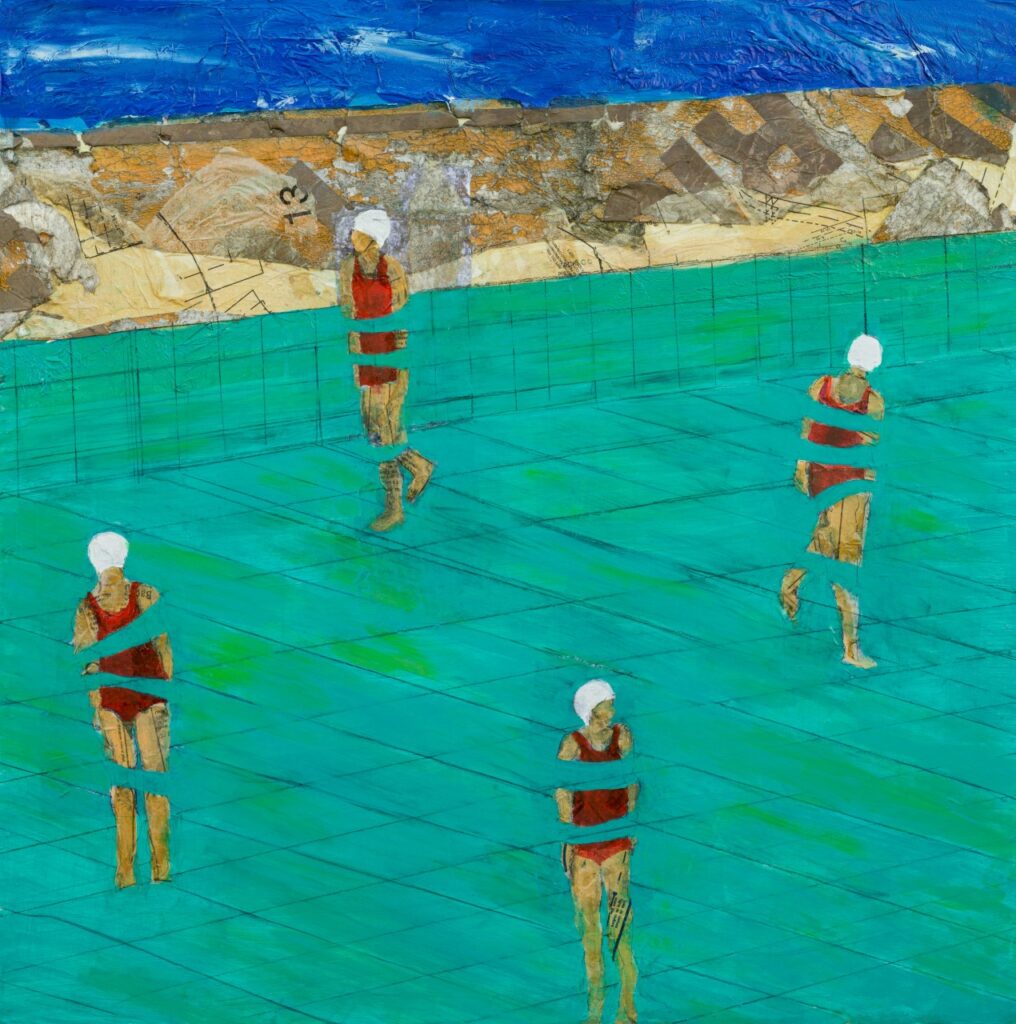 Snowber sees paintings everywhere she looks—buildings, swimming pools, structures that are falling apart, captured in beautiful entropy. Most of her works are inspired by the German expressionists and certain Bay Area painters who successfully integrate color, texture, and expression.
"The colors and marks of David Parks blow me away," she said. "The contrast of two reds or simple slashes that hold so much."
Her own methods include messy, curious, and textural steps, in an exploration of exquisite decay. With a family and a full-time job, Snowber squeezes in home studio time—but a large part of her creation process takes place in her head. Consciously and unconsciously, she considers a piece, turning it over in her mind so that by the time she gets into the studio, it seems to simply happen. This final alchemy takes place in an unfinished room with high ceilings and a skylight that brims with supplies, pieces in various stages of completion, and found objects—including her "rust collection" of discarded machine parts.
"Somedays I go in and want to make it all disappear and paint everything in the room white," she said. "Other days I appreciate the familiar comfort of the clutter."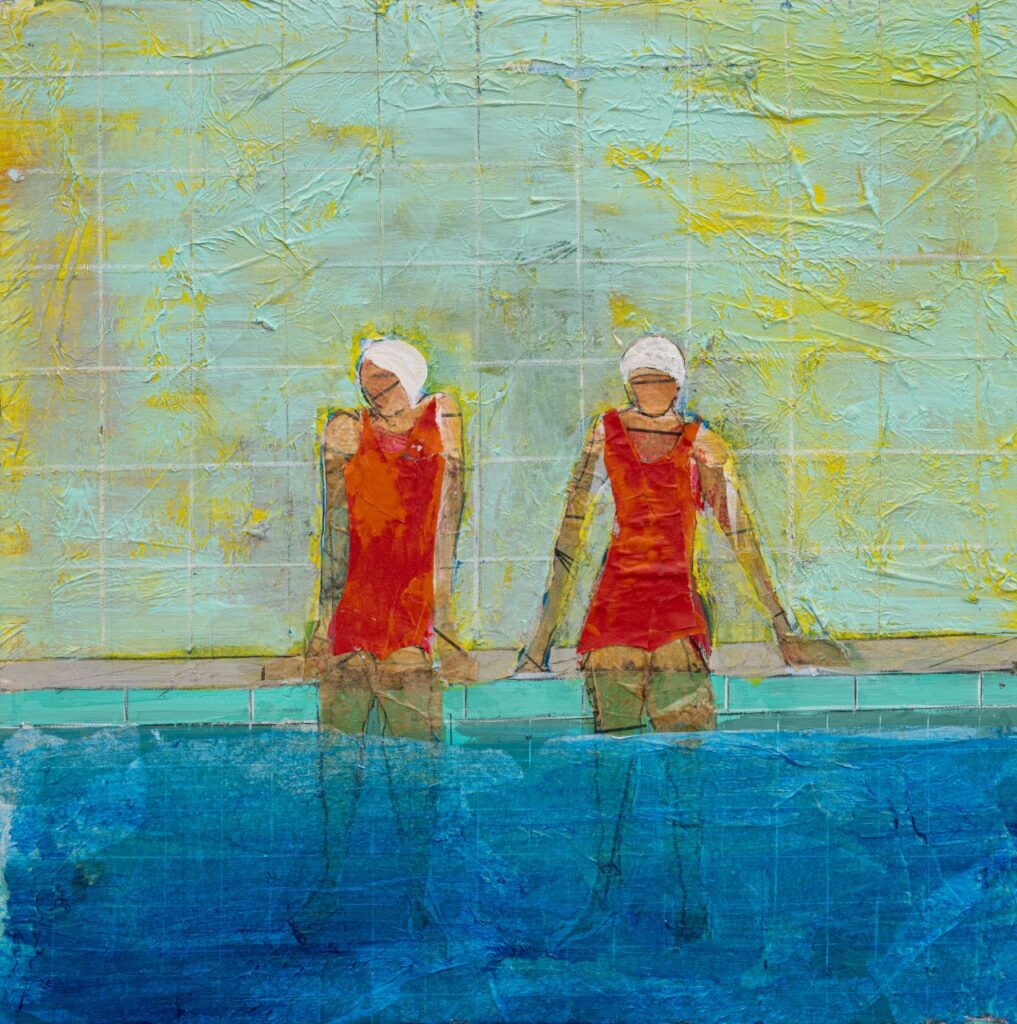 For years, her paintings have been marked by a theme of swimmers, pools, and water. Divers plunge into, or emerge out of the water and like constantly-changing moments in any given day, they make effort to swim up and out and to breathe. At other times, they are absent and it is just pools that appear, with or without water, still or tumultuous, taking on a life of their own.
Integrated with those works are images of home, structure, and assemblages made from found objects collected over time. This series took on new meaning throughout the course of the pandemic, its subjects shown worn and beaten but still standing.
Indeed, the COVID-19 crisis detonated a new commitment to her work for Snowber, who had to push back against her introvert tendencies during lockdown to present her work for others. She had found a newfound urgency, learning from the global pandemic that life is short, and that no one else was going to promote her work for her. Having spent many years creating art on the sidelines of a demanding life, she would now like to find a way to make it her full-time focus.
Snowber, her partner, and their two children reside in West Berkeley and own a small residential remodeling company named 360 Property Solutions. She is an avid reader, yogini, and takes daily walks to scavenge materials. The artist relishes coming upon construction sites and picking through the salvage piles, her passion for treasures and trash rewarded.
In her crowded studio, a new series of small pieces painted on fence posts and found wood has emerged, in which she reimagines the structures of their origin. She has begun to tentatively experiment with creating portraits from a series of photos she found on one of her walks.
This spring, Snowber will be part of the Sebastapol Center for the Arts' show, "Reverberations II," in which selected artists will create a piece of artwork in response to a selected poem, chosen at random. She is a long-time artist of the Mary Praytor Gallery in Greenville, South Carolina. Snowber will be featured in three upcoming books including Bay Area Artists, Wildlands, and Small Works.
For more info, visit the artist's website at dobeesnowber.com.